Why are Joggers so Popular?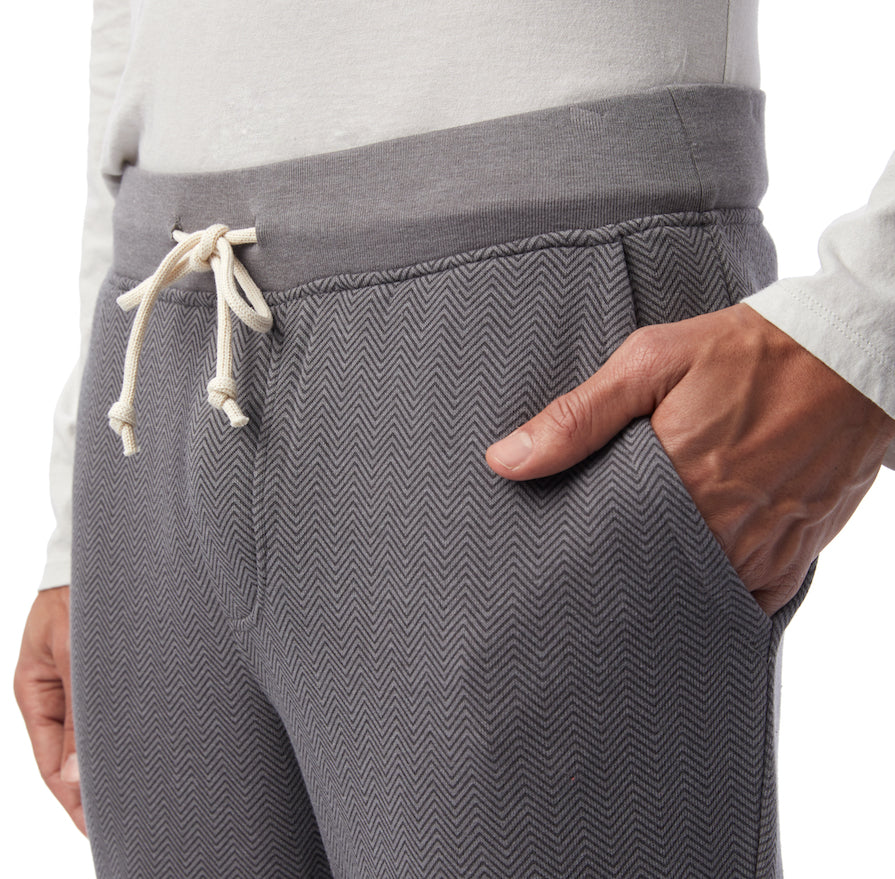 Three Reasons why Joggers Are a Men and Woman Wardrobe Essential.
Crafted for a wide range of functionality, joggers are a fashion piece that have continuously gained popularity because of their innate versatility. It is not often that a clothing artifact can maintain the characteristics of both comfortability and usability while remaining aesthetically pleasing...
And joggers offer exactly that! 
They are the "do-all" and "wear-all" of men and women clothing, offering the ability to act as both workout pants and loungewear that you can also dress up for a number of public outings. 
But before understanding all of the unique traits that make joggers a definitive wardrobe essential, it is important to first acknowledge the difference between sweatpants and joggers. Although at first glance they do indeed appear very similar, there are a few distinct comparisons that set them completely apart.
Joggers vs. Sweatpants
The joggers versus sweatpants debate is a comparison requiring clarification.
Sweatpants were originally designed to keep athletes warm when performing in cold climates. They are big and baggy, as their original intention was to fit over the bulky protective equipment that some athletes are required to wear, and now you will often find sweatpants being worn to remain warm and cozy on those cold, relaxing days. 
And that is just it!
Sweatpants are now adored by the general population because they are extremely comfortable. They are loose fitting, made from a heavy and insulating cotton/polyester, and always feature a loosely cut, open ankle. 
Joggers, on the other hand, are the more stylish 'upgrade' from sweatpants. One of the defining features between the two are showcased on the ankles. Joggers have an elastic tapered ankle so that the ends of the pants fit nice and tight. 
They are comparatively a lot more slim fitting than sweatpants, which give them less of a 'pajama vibe', and appear more 'pant like' in nature despite being commonly made from the same cotton and polyester blend that sweatpants are made from. 
Joggers showcase both front and back pockets, similar to their other pant and trouser counterparts, whereas sweatpants often do not. 
If you want to get a good idea of what your ideal joggers look like, then browse through Farm Brands perfectly curated jogger collection. They are the ideal jogger- Affordable, made from premium quality, and best part yet;
Farm Brand is happy to donate 5% of proceeds to your choice of charity at checkout! 
Whether you are going out on a casual dinner with friends, going on a run, or simply hanging around the house; joggers will become a staple to your style choice. 
To answer why joggers are so popular then, it is simply attributed to their style and versatility of purpose. They are an excellent men or women pant choice because they:
Are great for fitness
They are the best travel, work from home, and lounge pant choice
They can be elegantly styled for a number of public outings
Joggers are great for fitness 
Joggers were originally crafted as an upgraded activewear choice from sweatpants. Their intention was to become the go-to workout pants on the market, and they have since lived up to that goal. 
One of the main reasons why joggers are such an excellent activewear choice is because of their flexibility. You will never hinder any of your range of motions when running or when at the gym, as they are stretchy and they are just loose enough to provide you complete freedom in movements.
It is important that no fabric gets in the way of your workout. It is easy for loose flowing fabric to interfere and cause you to trip, and the tapered ankle of joggers ensures that they remain tight, in place, and free of loose ends.
The elastic waist of joggers as well allows them to be a great choice for lower body workouts. They are tight yet bendable, so when performing a squat or a lunge, the waist will never constrict or hinder. 
Pair with a tight fitting shirt or tank top, and you will have one of the best gym outfits around. Just as well, especially in the days of health awareness, joggers provide your legs with a layer of protection against the germ ridden gym equipment. 
When it comes to running, especially as the temperatures begin to drop, again joggers become the number one choice of running wear. There is no better way to enhance your free run on a cold day than with the warmth and comfortability that joggers provide. 
On the other end of the spectrum, should it be a hot day outside, joggers will promote the cleansing benefits that sweating initiates because of their warmth. 
They are light and flexible, and your knees will maintain complete freedom in their running movements. If you are searching for running pants for fall or running pants for winter, gym pants, yoga pants, or any other pants for your active lifestyle; then joggers will be the end all answer you are searching for.
If you are lookin
g to upgrade your workout outfit, check out these unisex, affordable, and just down right rad joggers from Farm Brand USA- Perfect for working out and free running. Simply click the image to view!
Joggers are the best travel, work from home, and loungewear pants
On the opposite end of the activewear spectrum, joggers offer another purpose to their realm of capabilities as a fashion choice. When you are traveling, working from home, or lounging, then you are going to seek one word for the feeling that you will constantly wish to feel:
Comfortable!
And my oh my are joggers cozy. As we know now, joggers are like an upgraded pair of sweatpants. And because of this, they still maintain many of the sweatpants characteristics, including being totally comfortable on a lazy day. 
Reading a book with some coffee on a rainy day is just that much better with soft, warm, and snug joggers. Paired with a big sweatshirt or a loose fitting tee, you will feel good while looking dang good as you enjoy the subtle art of doing nothing. 
But just as well, joggers are stylish, so they are a wonderful choice of at home work pants. You can sit comfortably in your home office chair, and most importantly, you will feel as though you are still appearing professional. 
This is essential, because of course comfort matters, and being comfortable can in fact enhance work output. But when being comfortable comes with looking 'lazy' and 'undressed', then it can be easy to mistake the work day for a lazy one and not a productive one. 
Joggers will provide an in between to this fragile balance that maintains steadiness on the line while never crossing over into the world of pajamas. 
I'm not saying go to a meeting in your joggers, but hey, these days meetings usually occur from the waist up; so if that is the case, jogger it up and don't hold back on being cozily productive!
As well as this, the days of travel have indeed changed. When flying, you usually aren't aiming to impress. But at the same time, especially as a professional, it is really important to maintain at least some form of appearance and style. 
Joggers take the spotlight for the best pants for flying in 2020. When a pair of pants as comfortable as joggers allows you to still pair it with the right blazer, a nice pair of shoes, and look entirely approachable and clean; then they win the travel game.
To find a pair of joggers perfect for any of these situations requiring a balance of comfort and style, click the image to take a peek at the
awesome and eye pleasing Farm Brand USA "Cargo French Terry Joggers"
Joggers can be styled to fit nearly any 'casual' public occasion
Running to the store to grab a forgotten ingredient, going out to a casual dinner with friends, or running absolutely any errand you can think of?
Then joggers will remain a special choice in your wardrobe essentials. You will never have to risk giving away any of your style points when wearing joggers out and about for most all casual occasions. 
A tight sweatshirt and joggers provide you with an athleisure style that says without speaking 
"I am active when I want to be and I am comfortable when I so choose."
It is with this unsaid statement that you will be able to shop around for groceries and meander through a mall without feeling underdressed. It is a testament to yourself, that because you dedicate so much time to the pursuit of fitness, it is entirely okay to reap the reward of comfort. 
Tee shirts and joggers are a wonderful way to promote a look that showcases an understanding of style and also an understanding of how to craft the perfect casual outfit. No one will look twice if you pair a tee shirt with joggers, and if they do, it is because you actually look really good. 
Blazer and joggers? Pull this one off and you have reached the epitome of combining style with the enjoyment of remaining a structured yet relaxed individual. Enhance the professionalism of casual business occasions and strike those around you with a look that is clean, cut, and polished. 
For one of the most sophisticated and stylish joggers on the market, look no further than these "Gatsby Expression Joggers". As the name entails, they are ready to make your next outing one that is sprinkled with the positivity that is derived from the confidence of wearing these fantastic joggers.