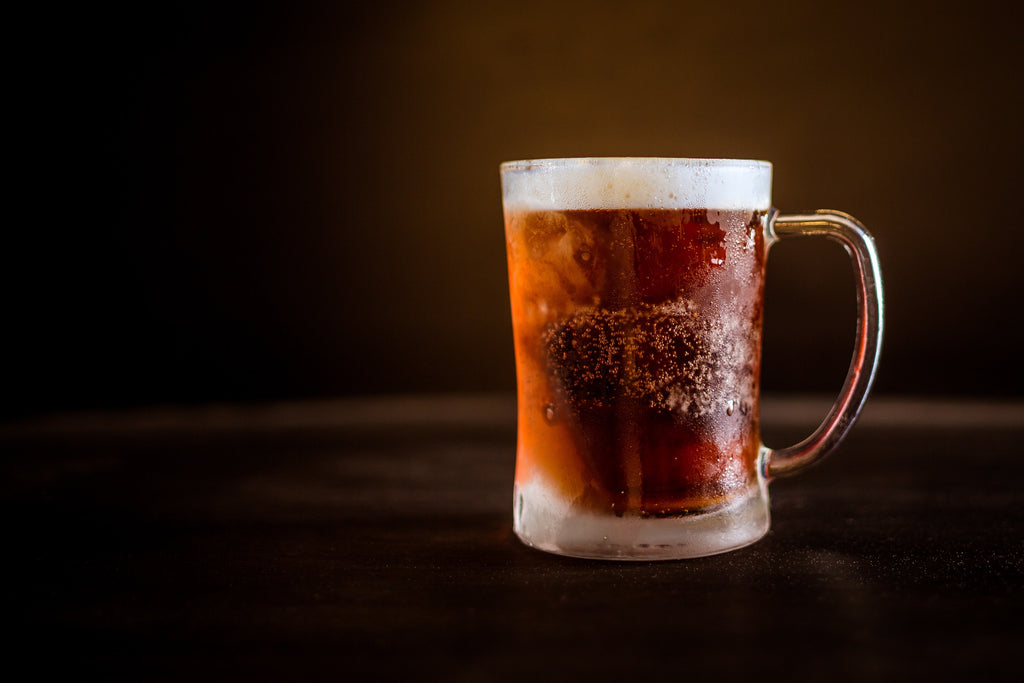 The Best Beers for Fall Sippin'
I don't know about you, but I love fall… And I really love beer. Just the nostalgia alone that arises from sipping the intoxicating notes of beers fit for the fall season as a super cozy Farm Brand Hoodie wraps around my body sets my mood into pure bliss, a happiness that comes and goes as fleetingly as the very leaves that dangle on the limbs of trees awaiting winter. 
And with these particular moods, the slight crisping of the air and the winds whispering winter, it requires a special and specific type of beer to best fit the atmosphere for fall beer drinking. It is no different than coffee, really, and how pumpkin spice inevitably intertwines itself into millions of lates as October says hello. 
Of course, you are free to drink absolutely any beer you please during any season, as the freedom of choice is one of the awesome things about beer. But for those of you interested in adjusting your pallet of cold ones to better fit the fall season, we are going to showcase a few general categories of beer and a few specific beers themselves that are an embodiment of the fall season. And no, not all of them are pumpkin inspired!!
IPAs with a Kick 
India pale ales are generally extremely flavorful and full of rich, hoppy notes that make them ideal for the fall season. Their dark and malty characteristics provide warmth through relaxed and slow sipping, as it is important to really allow the hops to dance with your taste buds as they pass by your tongue.
But to really pinpoint IPAs that are the best beers for fall, we can get a little bit more intricate here. For the best fall beer drinking experience, aim to go with a nice and high alcohol content in your India pale ale. Even though most IPAs are usually pretty up there on the content, im talking about a good 8%-10% ABV. 
And why is that you may ask?
It is because we are saying goodbye to the light and easy to drink beers we like to enjoy under a hot summer sun, and instead we want comfort and warmth. There is no better way to instill an internal coziness than by drinking a high alcohol content IPA that is bold and strong so that it warms your belly and soul as the evening sun moves further away and the air starts droppin' those degrees. 
3 Perfect IPAs for Fall
The definition of Elysian is "maintaining characteristics of heaven or paradise", and this 8.2% ABV beer is spot on. With a slight woodsy undertone that will put you right in your very own fall paradise, this IPA remains classically bitter yet balanced out by fruity undertones decorated by an ever so slight touch of caramel. 
There's no denying it, New England is one of the prettiest places to be in fall. Explosions of color dotting beautiful mountain sides, weather fit for campfires paired with only the best beer in hand. So then what a better way to match the feelings of fall in New England than with this 8.0% ABV India pale ale from Alchemist Beer brewed right in Vermont. Its a bit hardcore and it is sharp and bitter, but my oh my will the fruity citrus walk you through a fall forest, sharp with the bittersweet smell of cold soil and falling leaves. 
Although the focus here was some really warming IPAs with high content, I also want to provide those who prefer to enjoy an India pale ale that doesn't take as much umphh to take down and that doesn't kick your butt in the morning quite as bad if you have one too many. With that in mind, the 6.2% ABV Lagunitas IPA is just simple enough and just straight forward enough to still maintain an intricacy of caramel and malt flavor fit for those lovely fall evenings that still showcase a touch of warmth in the air. 
Pumpkin Beers 
You know we had to do it, right? Because although pumpkin beers have a taste that most people either totally love and can't wait to come around, or totally hate and could live a life without ever drinking one again, they are the fall beer of all fall beers. 
It's October, there's Halloween around the corner and pumpkins bright and orange are hanging out on bales of hay, their flavor waiting to be incorporated into the lovely liquid of a craft beer. And when it is done right, a pumpkin beer truly is the manifestation of all the characteristics of fall, making them one of the best beers for fall drinking. 
3 Tasty Pumpkin Beers for Fall 
If there was ever a Fall beer to impact your pumpkin pallet, this is the one. It is full of spice and flavor indicative of corn mazes and pumpkin patches, featuring the warming sensations that come with the hints of cinnamon, nutmeg, cloves and allspice. It is strong and definitive in flavor but easy to drink at a perfect 5.7% ABV, a beer that is classic for fall festivals and hangouts that will have you floaty and happy in no time. 
We're back with another amazing fall beer from Elysian Brewing Company, the "Punkuccino". If a pumpkin spice latte could be cooled, carbonated, and touched with a little bit of alcohol, this beer mimics the exact flavor that would arise from such. This ale with a nice 6.0% ABV takes the spices of nutmeg and and cinnamon, pairing them with a coffee and pumpkin flavor combo, and when sipping allows your mind to subtly drift into memories of choosing the biggest and baddest pumpkin to carve. 
The pumpkin beer with a cool and collected 4.4% ABV is fit for the best of fall day drinking days; football games, hangin out in the yard throwing some corn hole or taking a cruise up a mountain side to see the colorful trees from above. Easy to drink and a rather fun experience for your tastebuds, eager to taste fall in the pumpkin spices paired with citrusy fruit.  
Stouts and Porters 
The light becomes slightly darker in fall, creating amber and entrancingly dull hue throughout the air that signifies the coming of the shorter days. And as the lightness of the sun fades so does the lightness of our beers, and in fall the deep and dark tones of stouts and porters are ready to have their time in the spotlight. 
They are malty and bitter but usually paired with the sweetness of caramel and the flavors of coffee to create a beer that will warm your throat and instill a sly smile that showcases the sophisticated art of drinking a beer that is pure and powerful. For the best fall beers, make sure to incorporate some of the examples below into your fridge for your next evening hanging around a lively household full of laughter and a comforting energy derived from these excellent beers.
3 Killer Stouts and Porters for Fall
I must say, if you find this beer on a shelf near you (especially during fall) do not hesitate for a second to buy it. Your tongue has not known a flavor like this until it is alas lucky enough to revel in the rich depth of woodsy and Carmel malts paired with the lovely hints of coffee, chocolate, raisins and dates.
The beer showcases irony in its dark yet sweet taste, as if you were melting chocolate over a smoky fire to be used as dressing on a rich dessert. It's high on alcohol, hitting 9.5% ABV, so drink these slowly and make sure to recognize just how intricate this beer tastes and feels as it fills your blood with the warm and tingly sensation that comes with being totally content. 
A testament to everything you seek in the dark liquid of a classic coffee stout. Just as intoxicating as it is to sip a hot coffee by the fireside with a book in hand, what if this experience could be actually intoxicating. Well good news to you beer loving fall adoring people out there, this beer from Lagunitas provides you with exactly that type of drinking experience. 
Aged in rye oak barrels, this beer mimics a cup of coffee with a shot of bourbon. It's no joke, as you are really going to have to get ready for its wild 12.5% ABV content and boozy taste that comes from such. This fall stout  will last all evening long as you slowly sip away while the smoke from a nearby fire blends into the rich, bitter sweet roasted coffee of this beer; the light of the flames shimmering bright on the deep black of this 'fit for fall' coffee stout. 
The name does not disappoint, and if you are one that seeks pure uniqueness from your beer drinking experience, then this 6.4% ABV porter will have you fulfilled for quite some time. It's like the perfect breakfasts blended into a beer, and I mean that in all the best ways possible; sticky maple drizzled over smoked bacon with a cup of warm black coffee steaming nearby. 
And it is with these flavors that the nostalgia of fall can be perfectly defined and pinpointed. Drinking it is a reminder of the simple things, of the flavors brought to us by this Earth that will soon cool away until the spring sun comes around to bring them back to life. If you are looking for an intensely interesting yet "oh my gosh, somehow this works so well!" kind of beer, then give this one a shot as a testament to the leaves blissfully falling off the maple trees in fall. 
This article has been brought to you by your friends at Farm Brand. Stay tuned for more local beer guides and local microbrewery guides for specific locations!