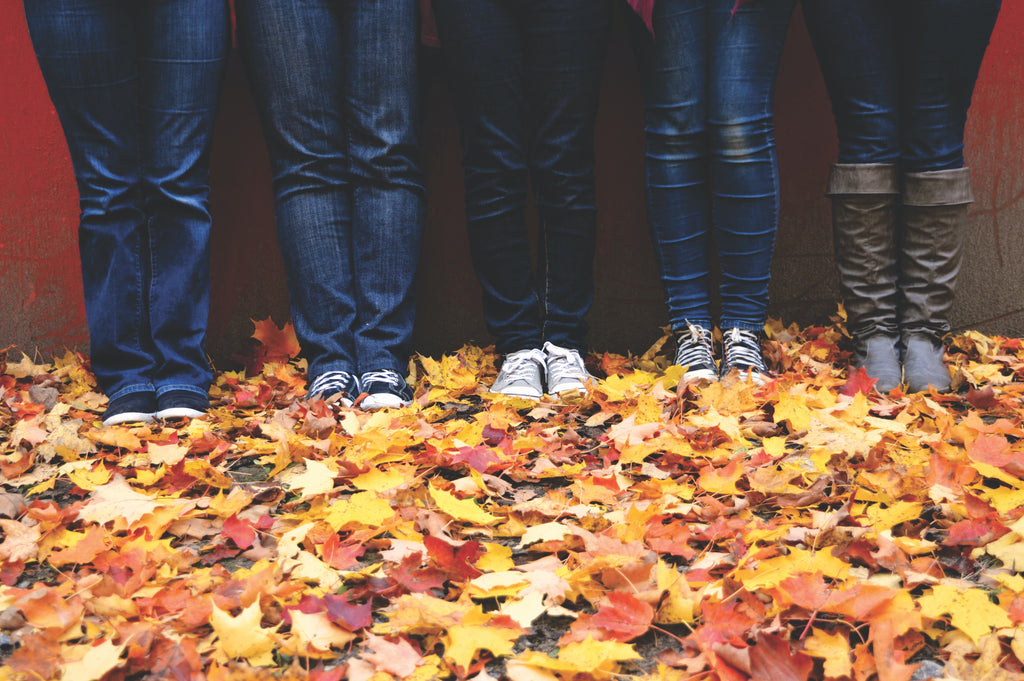 Tips, Tricks, and Clothing Combinations for the Best Fall Style
Chances are that, unless you live in a place with weather patterns similar to Florida, temperatures are beginning to drop and the chlorophyll is beginning to say goodbye to the leaves that will soon transform into the brilliant yellows, reds and golds character of Fall. With this changing of the season inevitably comes the changing of our clothes, as style loves to mimic and match the outside world as well as evolving to ensure we are warm and comfortable throughout the crispiest of fall evenings.
Fall is one of the most fun seasons to form style around. This is because there are a million outfits, garments, and other accessories that all pair extremely well together, as you aren't held back by the hot summer sun (leading to simple t-shirt and shorts combos) or the intense cold of winter (where your large overcoat will mask the rest of your entire outfit). 
For some awesome examples of how to style your clothes for fall, read our fall style guide below so that you can wear your clothes with an assertive confidence and remain a prominent example of just how good you can look through the fall season. 
Fall Style Starts with Color 
Before getting into the actual types of clothes that work really well in fall style, it is important to first note that style begins with color. So, before trying to combine the combinations below, in order to match them best for fall take a look at our Fall Clothing Color Guide so that you can gain an understanding of the ways in which you must adjust your clothing color choice to match the dimming light and colorful leaves that arise when the season switches. 
Once you have a good understanding of fall clothing colors, then begin to decide how you will mix and match your garments based on some of the outlines and definitive examples below! 
The Fall Color Pop 
After reading through our color guide, to create a look that draws attention and provides you with an aurora that showcases pure confidence by being ironically quiet and loud at the same time, begin with an under layer of which will be one of the brightest fall colors you can find (like bright red or bright yellow)
As a rule of thumb, go for the ones that best resemble the brightest of leaves. When you have your first choice, then form the rest of the outfit around much more neutral colors like browns, deep blues and blacks. This will be done through your pants and your coat choice, so leave your coat unbuttoned to highlight that big and bold color pop that works excellently for men and women in fall fashion.
Depth Through Layers 
One of the coolest things about fall style is the way in which you can create a sense of depth within your clothing. Layering not only helps to keep you warm, but it provides an artistic approach to styling your clothes. 
Think about it like this. A painting that uses only one layer to complete it will look bland and unfinished, as if there is no dimension to it and pure lack of texture. A painting that uses multiple colors and thick layers of paint, however, will lean far more towards the definition of a masterpiece. It will maintain a depth of life through its depth of shadow, dimension, and texture that makes you feel like you are looking at reality and not a painting. 
And the same holds true for clothing. By layering your clothes properly, you will also enhance your own sense of depth to both your style and your overall being. You are deep, intelligent, and intricate, just as your layers of clothes will embody.
To create a sense of depth with layers, begin with the undergarment and work upwards. A flannel works great as the first layer, and a plain white or black tee will also work perfectly if it is slightly warmer outside. 
For layer number two, utilize a muted color yet comfortable sweatshirt (Something like this) and let the hood fall back, or try a light collared jacket. 
Finally, for the final and outer layer give yourself the most stylish and elegant overcoat that you can find. Remember, when creating a layered look, this will be the first and foremost piece that people see, so make it the most appealing it can be. Chances are for overall matching purposes it will be brown, but regardless of the color keep it cool and relaxed by leaving it unbuttoned. 
Textured Clothing for Fall 
Adding a little texture to your clothes is such an essential piece to maintaining the highest extent of fall fashion. And what do we mean by texture? Well, we're being quite literal here, so any type of clothing that has a feeling when you run your hands down it. 
Think wool and the soft yet just so slightly bristled texture that it provides a flannel. The imperfect nature of this texture grands it an appealing characteristic. Fleece as well showcases an extremely soft texture in its appearance that makes those who view it with their eyes want to jump into a bed made of this very material. 
Another great texture to use in fall is anything suede. Suede looks fantastic because it is a lot more calm and collected than leather, which can be comparatively a lot shinier and bold. Suede is a very textured material that can be used in shoes, overcoats, skirts, jackets and more! 
My personal favorite for fall fashion texture is corduroy, especially  brown  corduroy pants in fall. The texture is definitive and noticeable, a transition away from the simplicity of summer and into the idiosyncrasies of how the Earth changes in fall, the textured landscapes adorned with fleeting trees and newly exposed ground. 
So remember, to provide a unique appearance to your fall fashion, make sure to use a little texture throughout your clothing combinations. 
Blue Jeans are Here 
Blue jeans have always been a staple in fashion, and they are a great asset to creating an aesthetically pleasing fall fashion look as both men and women alike love to use their easy matching abilities and differing styles to create appealing outfits. 
For men there are a few choices in matching blue jeans for fall outfits, and they are all rather simple yet look super good! 
Start with a plain tee, usually grey or black, but if you are going to showcase a design definitely keep it simple, like our tees available on Farm Brand. Pair the Tee and jeans with a dark colored overcoat, such as a navy blue and keep it open for a simple yet professional fall look. 
If you want to be even more comfortable and relaxed, there really is no better way to match blue jeans than with a big grey sweatshirt. Fall is when we have to start realizing that warmth is important, and nothing beats the feeling of a big ol' hoodie that is as soft as ours here at Farm Brand. 
Women can pair their jeans for fall in a number of ways. From tucked in tight fitting sweaters to big and baggy ones, long and flowy overcoats and so much in between, blue jeans are a staple to women's fashion. To further create a fall appearance, a big brown belt is a great method for adding a little bit of fall color 
Boots!
Pretty much everything that you can think of in fall fashion looks so good with a pair of brown leather boots, speaking for both men and for women! They create a more rugged appearance indicative of the fall season, and they are quite functional. But as well as that, brown boots add a modern and sleek appearance to any clothing combination that emanates professionally, an understanding of style, and an internal confidence. 
Boots are versatile, durable, and an essential piece to any fall fashion wardrobe choice. 
Beanies! 
Although a few other types of hats look nice with fall fashion, beanies are going to always remain a go-to for headwear during this lovely season. Not only will they keep your ears warm and retain the heat lost through your head on those cold nights, but they add an element to your outfit that showcases a pure understanding that warmth is leaving us and it is time to get ready to combat the crispy winds with functional clothing pieces that can also complement your fashion appearance. 
Scarves!
The pumpkin spice of fall fashion. Scarves are seriously the best, as they look totally awesome in both professional, casual, and every day looks. To best pair a scarf for fall, if the rest of your clothing style has plaid color, use a plain colored scarf. On the other end of the spectrum, if your clothing is generally plain, spice up your outfit with a little pop of plaid color in your scarf! 
Plus, scarves paired with leather boots mentioned above will grant you some serious style points. 
The Cozy and Comfortable Fall Look 
This one's for those that enjoy being as purely comfortable as possible. When feeling matters more to you than appearance, then you are honestly doing something totally right. As nice as it is to dress up in fall, a lot of our days will be spent indoors with books, herbal tea, and coffee, and to be comfortable is the highlight to these cozy settings. 
But there is good news to be had here as well! For as easy as it is to allow a comfortable look to win over any desire to style nicely, you can just as well create a fashion statement through your warm lazy day outfit. 
Instead of sweatpants, wear a clean looking pair of joggers that are more comfortable (especially when crafted from french terry) and that are also a little tighter and therefore look better. 
Joggers can be paired with t-shirts, sweatshirts, and so much more. If you are interested in learning more about styling joggers, read through this article here to leave you an authority on the subject of jogger styling. 
Regardless, joggers for both men and women work wonders for at home outfits and also for tons of casual occasions, specifically when the joggers are designed with a subtle design (like the extra comfortable joggers in the above picture) that make them blend in to almost being deemed a pant suited for a professional environment. 
To view Farm Brands entire collection of the best fall joggers, simply click here to browse the highest quality of clothing products. 
If you don't have the keystone element to comfortable fall fashion that is joggers, then look no further than our collection here at Farm Brand, and remember to pair them with one of our cozy sweatshirts to really place yourself in a land of bliss. 
This article has been brought to you by your friends at Farm Brand.