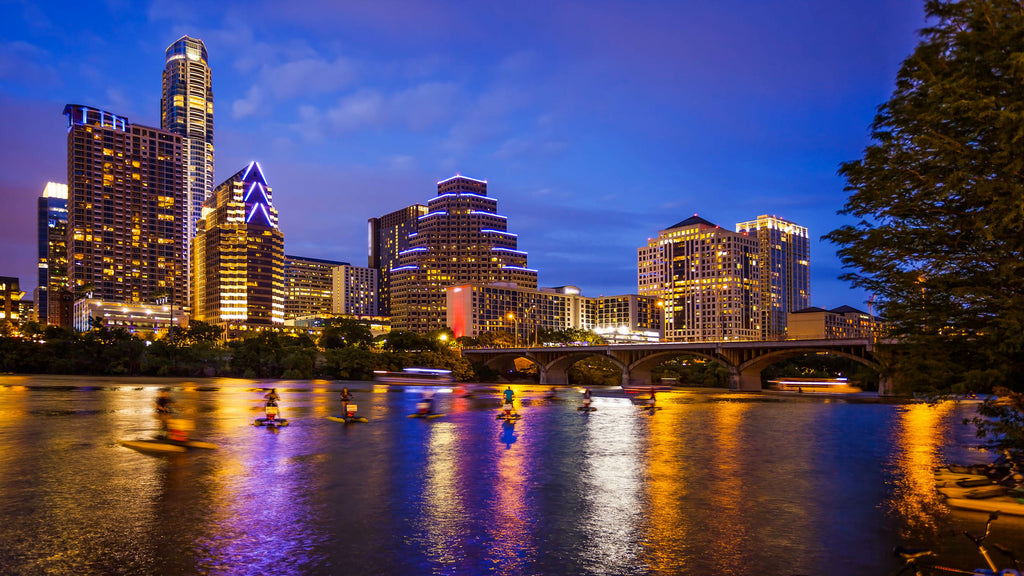 By Morgan Bernard
At Farm Brand, we strive to be outdoors as much as possible, whether that's going for a midday hike, a surf, or opting to walk to work. Where we work, travel, and choose to live reflects who we are, and if you're like us, the outdoors is engrained in your identity. So, we often find ourselves in cities that have a common thread—proximity to nature. As many around the country continue to work remotely, we thought we'd highlight some of the nation's best urban hubs for adventure. Continue below to read Outdoor Cities We Love. 
Austin, Texas
The Texas capital has long been a haven for hippies and nature lovers, but in recent years, the city's population has blossomed with an influx of tech industry jobs.
Run
The city's hill country topography and webbed lake system make it an ideal running city. Run the Greenbelt trail along Barton Creek, check out the Town Lake loop for lakeside and downtown views, or head north to the many hilly trails outside the city.
Climb
Austin, Texas may not be the first place that comes to mind when you think of climbing towns, but the city has access to two premier climbing spots— The Greenbelt and Reimers Ranch. The Green Belt is home to some of the city's best natural wonders, like Barton Creek, but it also features several top-roping routes for climbers of all levels. Reimers Ranch, a once a private ranch, is now a state park and features many challenging sport climbing routes that ascend overhanging limestone canyon walls.
Water Ski & Paddle
Austin is bisected by the Colorado River system, which gives way to several stunning man-made lakes, which are perfect for waterskiing and wakeboarding. From Austin, an eager boater can access Lake LBJ, Lake Travis, and Lake Austin, all of which are popular boating and skiing lakes. Within the city, you can cool off with a paddle down Lady Bird Lake, which is also known as Town Lake. On the shores of Lady Bird Lake, you'll find kayaks, paddleboards, canoes, and rowboats for rent.  
Los Angeles, California
The city of Angels is known more for the film industry and its star-studded residents than its proximity to nature, but that may be a mistake. LA has it all. Within an hour's drive from anywhere in the city (traffic dependent, of course), you can access the beach, the mountains, and the desert, but you don't have to leave the city to enjoy the outdoors.   
Surf
Obviously, LA sits on the West Coast of the United States and boasts access to some of the most iconic waves on the planet, like first point Malibu. But you don't have to brave the crowds at First Point to catch waves. Up and down the coast, from Long Beach to Malibu, and everywhere in between, you'll find waves and unique pockets of surf culture that have helped define the sport.
Hike
Many LA residents may be surprised to learn that there are dozens of quality hiking trails within the city limits. From the trails of Topanga Canyon to the Hollywood Hills, LA visitors and residents can hit the trails wherever they find themselves in the city.
Run
Los Angeles may be one of the best cities for runners in the entire country. Within the city limits, you can run along the coast, in one of the many parks, or hit the trails for a challenging climb. A favorite in Hollywood for fitness buffs is the steep trail at Runyon Canyon. 
Climb
The mountainous topography of southern California hides several world-class climbing crags. Most climbers in Southern California will make the pilgrimage to Joshua Tree, but not many look in their own backyard. Malibu Creek State Park has over a dozen climbing spots with a healthy mix of top-rope, sport, and bouldering routes.
Chicago, Illinois
The windy city's reputation might be one of harsh winters, deep-dish pizza, and no shortage of Irish pubs, but it's also one of the nation's best outdoors urban centers. Located on the shores of Lake Michigan, Chicago is full of lakeside trails, city beaches, and boat marinas for travelers and locals alike to enjoy. 
Run
Chicago boasts a surprisingly high number of running trails given its urban design. The most popular running trail in Chicago is likely the Lakefront Trail, which stretches 18.5 miles along the shores of Lake Michigan, and cuts through dozens of parks, beaches, and marinas along the way. The 606 running and bike trail is a great example of how cities can repurpose spaces for outdoor recreation. What was once an above-ground railway is now an extensive system of elevated bike and running paths that bisect the city.
Sail
As its nickname would suggest, Chicago has no shortage of wind. The Spring and Summer months are the perfect time of year to get out on the water and try something new. Chicago may not have the sailing culture of the northeast, but there's something special about sailing in the middle of the continental United States. There's no shortage of sailing rentals and lessons in the city. 
Serve
When the snow melts and the ice thaws and exposes the sandy shores of Lake Michigan, the citizens of Chicago flock to the beach. Just like on the West Coast, Beach Volleyball is a staple of beach life in Chicago. Nets can be found on North Avenue Beach and Montrose Beach. 
Santa Fe, New Mexico
Known as the Land of Enchantment, New Mexico's stunning landscape swirls the desert and mountains into one unforgettable outdoor experience. There's no better location to experience all that New Mexico has to offer than the capital, Santa Fe. A winter wonderland and skiers paradise in the winter and a sprawling desert and mountain playground in the summer, Santa Fe is as good as it gets when it comes to outdoor cities.  
Ski
Located just half an hour from downtown Santa Fa, Ski Fanta Fe is a modest-sized mountain with a variety of terrain for beginners, experts, and everything in between. Unlike many ski destinations throughout the Rockies, Santa Fe's mountain is only a stone's through from the city, not a makeshift tourist trap ski resort town, but the actual city of Santa Fe.
Hike
On the way to the ski mountain, you'll pass through Santa Fe National Forest, which encompasses 1,558,452 acres of protected alpine terrain. Hikers in Santa Fe National Forest can choose from easy day hikes in the front country or longer backpacking routes at higher elevations. 
Bike
You don't have to venture up the mountain to Santa Fe National Forest to find quality mountain biking. In fact, there is an entire web of trails just north of the city that race across the enchanting desert landscape. Find out more about La Tierra Trails here. 
Be on the lookout for Part II of Outdoor Cities We Love, where we'll dive into some of the country's best East and West Coast surf towns as well as a few Southeast climbing hubs. Farm Brand City Guides coming soon!