Recycled Polyester Fabric: How It's Made and Why It Matters

Recycled Polyester Fabric: How It's Made and Why It Matters
Recycled polyester fabric is exactly what it sounds like - polyester fabric that has been given a second life.
You see plastic bottles filling the garbage cans and plastic handed out with every fast food meal. Plastic fills your house. But did you notice how it also fills your closet?
Polyester is a very popular material for clothing. In fact, about half of the world's clothing is made from polyester. That number is expected to increase dramatically in the next decade.
It's the athleisure-love my friends. More and more people are loving athleisure clothes and that means more polyester. Polyester is made from the most common type of plastic also known as polyethylene terephthalate (PET).  
So, what can you do? Give up the love for athleisure clothes? Not quite. You can choose eco-friendly clothing made with recycled polyester fabric. Recycled polyester is known as rPET and it changes the story for the world's overuse of plastic.
How Recycled Polyester Fabric is Made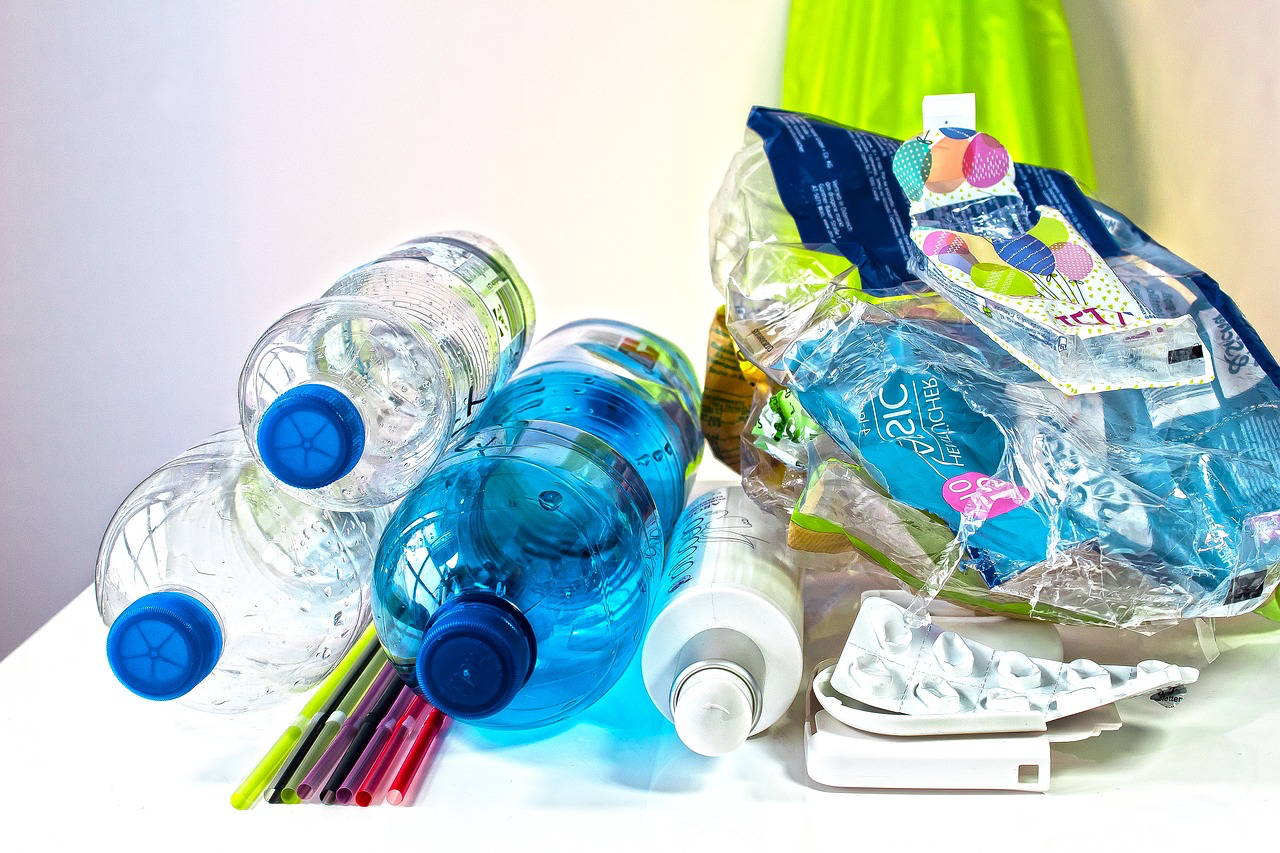 Recycled polyester fabric is made by melting down existing plastic and respinning it into a new fiber. They melt the plastic and shred it into little flakes the size of rice. This is then sold to companies who turn it into new products.
This can be done with plastic used for all kinds of things. However, it's fun to imagine all those plastic bottles going somewhere as great as a new sweatshirt. Surprisingly, only five soda bottles are needed to make enough fiber for one extra-large T-shirt.
And it's not just recycled polyester fabric. Recycled plastic can show up in your shampoo bottles, toys, furniture, shoes, bags, etc. - If you choose sustainable companies!
Why You Should Choose Recycled Polyester Fabric
So, you have the visual of the overflowing garbage cans with plastic water bottles falling around them. Those plastic water bottles end up in a landfill if nobody takes the time to recycle them.
If nobody was making products from recycled plastic, then there wouldn't be a need to recycle them. This is why it's so important for us to increase the demand for recycled polyester fabric. Every time you buy something made from recycled polyester fabric, you're voting for plastic to be taken out of the garbage.
Not all plastic thrown away ends up in a landfill. A lot ends up in the ocean. Sadly plastic has been found in 60 percent of all seabirds and 100 percent of all sea turtle species. They don't know what plastic is but they mistake it for food. Makes sense… what's it doing in their backyard anyway?
Recycled Polyester is Just as Good as Virgin Polyester
Recycled polyester is not the same thing as reusing a paper bag over and over until it falls apart. In terms of quality, recycled polyester is actually just as good as virgin polyester.
So, we don't lose anything by using recycled polyester. Plus, it uses less resources to make! It also stops us from needing to extract more crude oil from the Earth to make additional plastic.
This is why Farm Brand hopes to add more and more products made from recycled polyester to our shop. The more support we get from people who know it matters, the better we can do!
It's our mission to be selective when choosing our suppliers because we know that sustainability and choosing recycled materials matter.
Our Revert Fleece Hoodie is made from 100% recycled fabrics including recycled polyester. It's also the softest hoodie and one of our most popular products!
Remember you have a choice of what you buy and what you support. Next time you go to buy clothes, don't forget you have a chance to take some plastic bottles out of the ocean.