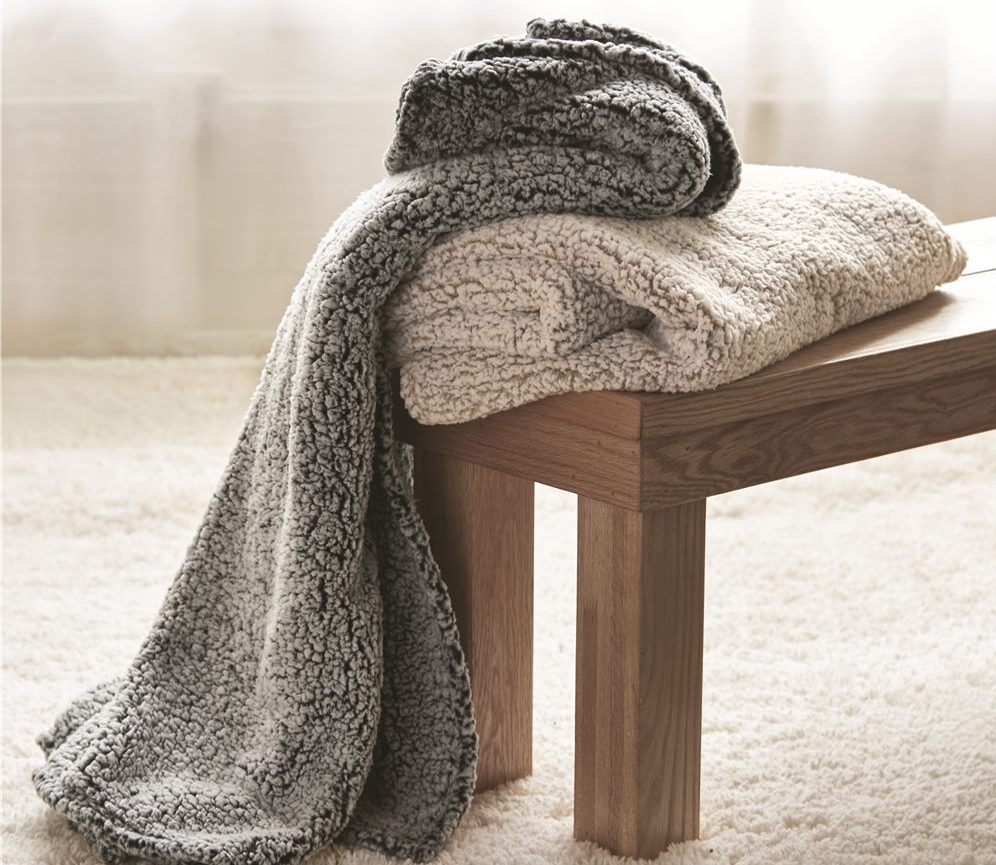 What it is and Why it is so Comfortable! 
Although we all probably know the standard textile materials and their general personalities manifested into our clothing very well- the common ones like cotton, fleece, polyester, and wool; there exists another that, although often goes unnoticed, underrated, or unknown; is one of the most comfortable fabrics of which your skin could ever have the honor of touching. 
And that fabric is one that is known as "Sherpa".
What is Sherpa & Why is it so Great?

We know that Sherpa is a type of clothing material, but what exactly does it look and feel like? And how exactly is Sherpa made?
Sherpa is a type of knit fabric material that gets its name from its appearance, as it appears to look very similar to the wool clothing worn by the natural Sherpa tribes of Nepal who endure severely cold winters.
By taking a blend of polyester fleece, acrylic, and sometimes even cotton, stretching it, and knitting it into shape, the result is a fabric that looks and feels a lot like wool! 
It is fluffy, twisted, and bumpy, the wool texture that we all know well. And it is all of these attributes that make Sherpa quite literally feel like a cloud. That soft and comfortable breath of relief you take when you drape a sherpa blanket or jacket around you and settle in for a once chilly evening that is now oh so warm!
And a classic trait of Sherpa is the fact that the other side of the fabric will feature a harder, knitted shell (harder for jackets, a little softer for home goods like blankets). This is because Sherpa is mainly featured in winter clothing, and this shell helps to block out cold air and the wind while keeping your body heat in the jacket. 
Sherpa is often called 'faux-sheepskin'. That means there is absolutely no animal product involved at all in the creation of Sherpa! So you can rest easy knowing that Sherpa is one of the most animal-friendly types of fabric to exist at no creature had to sacrifice anything at all for your gain. 
Sherpa is one of the most insulating materials around, so not only is it extremely comfortable and soft, but it is one of the leading fabrics in terms of maintaining body heat when outside during one of those wild winter adventures while still remaining light. 
Sweat can be a dangerous thing in the cold. Your body initiates sweating to cool yourself down, yet this is done at a cost. Because in wintertime, as you sweat your skin is not cooled off by the fresh breeze of wind, and it is instead absorbed right into the fabric on your back. 
Sherpa is an extremely moisture-wicking material, so instead of absorbing the sweat for a clammy, sickly cooldown when layered in winter, it wicks it away to keep yourself maintained at just that perfect temperature we seek when the temps get low. 
And of course, although the style and fashion often matter more, functionality and purpose are equally as important of an aspect of your clothing choices. 
Sherpa is a clothing material that allows you to effortlessly style yourself up with a multitude of different options for nearly any outfit, and you can look-good as you feel-good, while remaining functional and durable the entire time. 
Farm Brands Sherpa Blanket
Because we are on the subject of Sherpa, Farm Brand is extremely excited to announce our very first Sherpa made item, and we want to take a moment to show this lovely item off!
Introducing our Merino Plush Sherpa Blanket, this cuddly and inviting little cloud of bliss is made of 100% high loft Sherpa.
Again, no animals, and just love!
The perfect holiday gift for a loved one, as this blanket is sure to become the favorite blanket of whoever is lucky enough to receive it as a gift, or simply a lovely way to treat yourself. 
Because remember, self-love should always come first! And it is a pleasurable experience when you can instill a smile right on your very own face.
And smiles there will be as you cuddle up under this fuzzy thing while a movie plays and popcorn is eaten in replacement of dinner, and don't worry; this blanket is plenty big to fit two!
Don't hesitate, especially before we reach the peak of winter and before the holidays have said goodbye, to browse our lovely new Sherpa blanket. With a handful of eye-catching and aesthetically pleasing color choices, have fun shopping the animal-friendly way of providing to yourself a warmth that was once reserved for only the sheep hiding away from winter in a barn. And all you have to do is Click Here to Shop!
This article has been brought to you by your friends at Farm Brand