1 Piece, 3 Ways - Womens Crew Neck Sweatshirt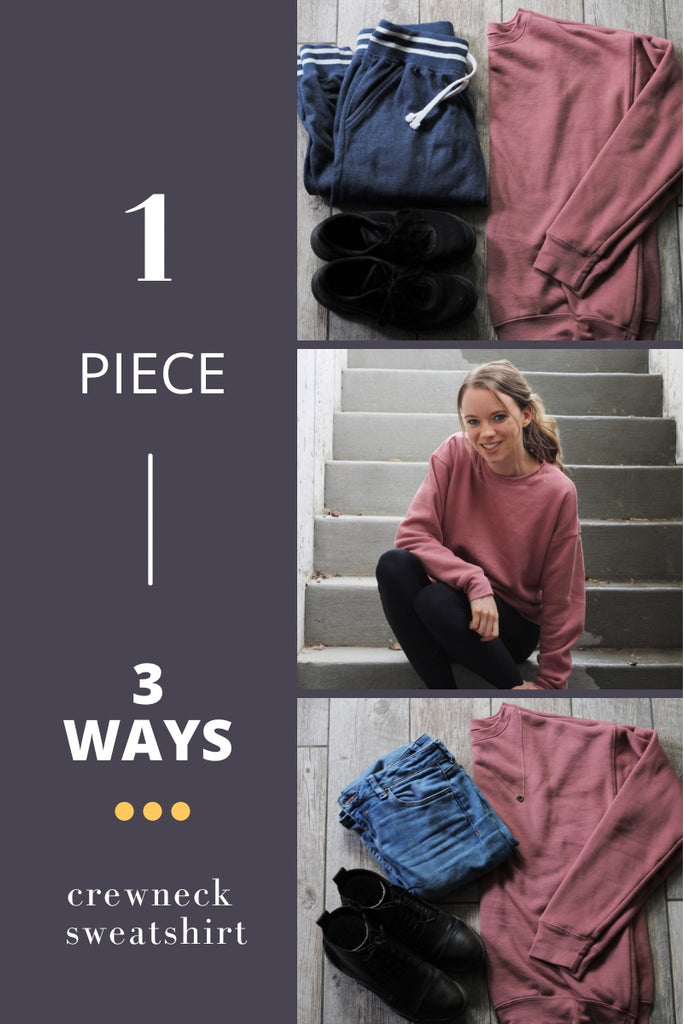 1 Piece 3 Ways - Womens Crew neck Sweatshirt
When building a minimalist wardrobe, you want each piece to be versatile. Farm brand's simple styles are perfect for the flexibility you need in a capsule wardrobe.
Today I am using The Graduate Drop Shoulder Crewneck in mauve to create three different outfits, each with its own destination. When you have a shirt that works for both going out for lunch and a jog around the block, you know you will get a lot of use out of it.
I am loving the mauve color but for even more versatility you may want a white crew neck sweatshirt. These cute crewnecks come in a variety of colors so check it out and see which color works best with your current wardrobe.  
Going Out in a Pullover Crewneck
Pairing this lightweight sweatshirt with jeans and a necklace is a quick way to dress it up. Then you just have the shoes to consider. Sweatshirts go with cooler weather so we've got some dark booties to pull this all together.
When you have a shirt that looks good, you wear it. When you have a shirt that looks good and is comfortable, you wear it all the time.
Hiking in a Crewneck Sweatshirt
Pairing this crewneck with navy Medley Fleece Joggers, you have an outfit you can move all around the trail in. Add some plain sturdy tennis shoes and you are set for adventure. Or a day at home. The most comfortable sweatpants for moving are also the perfect clothes for lounging.
 In warmer weather, these cute crewnecks would go perfect with The Daisies French Terry Shorts. Another perfect hiking look. Wearing this crewneck over a tank top gives you options when you are out on the trail. This crew neck sweatshirt keeps you comfortable when your active hike turns into a rest by the lake.
Working Out in a Crewneck Pullover Sweatshirt
Add leggings to the crewneck and you are set for a run, a bike ride, or an outdoor yoga session. Check out these high waist leggings in black. Swap the shoes for running shoes and you are all set.
A capsule wardrobe is one that has many pieces that go together in different combinations so that you don't need as many clothes. When you coordinate colors and styles each piece goes further. Simple styles don't go out of style. Choose timeless pieces and you will come up with a capsule wardrobe that you love today and tomorrow.
Check out this blog post for more of our favorite athleisure staples.
Enter your email and receive 10% off your first order.