Cooking Over a Fire Pit: Easy Camping Meals For Families
Putting together a camping trip for the family is a real test in organization and patience. Planning where you'll go, what to wear, what to do, what to eat, and doing it for every member of the family. You need a lot of stuff for camping with kids. That car is going to be jam-packed.
Today I am going to help you with that camping trip list by giving you ideas to create your grocery camping list. These easy camping meals for families are perfect for over the fire cooking. The best camping dinners for families are the ones that get everyone gathered around the fire.
Cooking Over a Fire Pit: Easy Camping Meals for Families

Kid friendly camping meals can be a little trickier. You don't want to be in the middle of the woods with a kid who has nothing to eat. Of course, they have something to eat, it's just that for some reason they don't believe it. So we are starting our camping meal ideas with a knock-it-out-of-the-park kid favorite.
Hot Sandwiches with a Mountain Pie Maker
These are so good you will go home and build yourself a fire pit in your backyard. This idea does require you to buy some mountain pie makers but I assure you it is worth it. Kids love making their own sandwiches and then cooking them on the fire with their mountain pie maker. Everyone can make their own sandwich with exactly what they want in it.
If you have young kids who can't make their own, you can also get a double mountain pie cooker to speed up the process.
Kids love pizza mountain pies and cooking over a fire pit. You can use pizza sauce, mozzarella cheese, and pepperoni. Other sandwich ideas are:
turkey and cheese

mozzarella, tomato, and basil

ham and pineapple

dessert sandwiches with pie filling or chocolate and banana
Any warm sandwich you make at home you can recreate cooking over campfire with a mountain pie cooker.
Make ahead camping meals save a lot of time and frustration. It is easy to cook in your own kitchen. With tin foil dinners you do all the chopping and prepping before you get to the campsite and then you throw your dinners on the fire.
You can use beef, chicken, potatoes, and carrots all in one tinfoil wrap. For vegan camping food, wrap up some tofu separate so you can cook it for a shorter time without it burning. The potatoes and carrots take the longest to cook so don't chop those too big!
You can add barbeque sauce, cream of chicken soup, or keep it plain for the kids to dip in ketchup after it cooks. There are a lot of options with these as again each person gets their own tinfoil dinner and you can make them however they want!
I write names on the outside of the meals with a sharpie and then pay attention to where I place each one on the fire because the labels will not show after cooking. Tell your kid, "this one's yours!" then plop it down and chances are they won't want anyone touching their food and they will remember.
You can also make rice ahead of time and warm it up on the fire to go with the dinners. Just put this next to the fire or on the over fire grill. This usually satisfies that one kid that can't see the other food you put in front of them.
A lot of campsites have an over fire grill there. I might even say most do… but you can also buy your own and take it with you.
You can grill corn on the cob while it is still in the husk on the over fire grill. You can also wrap it up in tinfoil and lay it right on the fire. You definitely want to make sure you are putting the corn in a less hot spot from your potatoes and meat if you are making that as a side for your tinfoil dinners. Just on the outside with a few coals will work.
If you are having an ever-popular hotdog on a stick night, you can toast your bread on the over fire grill. Or cook your hotdog and hamburgers right there on the grill.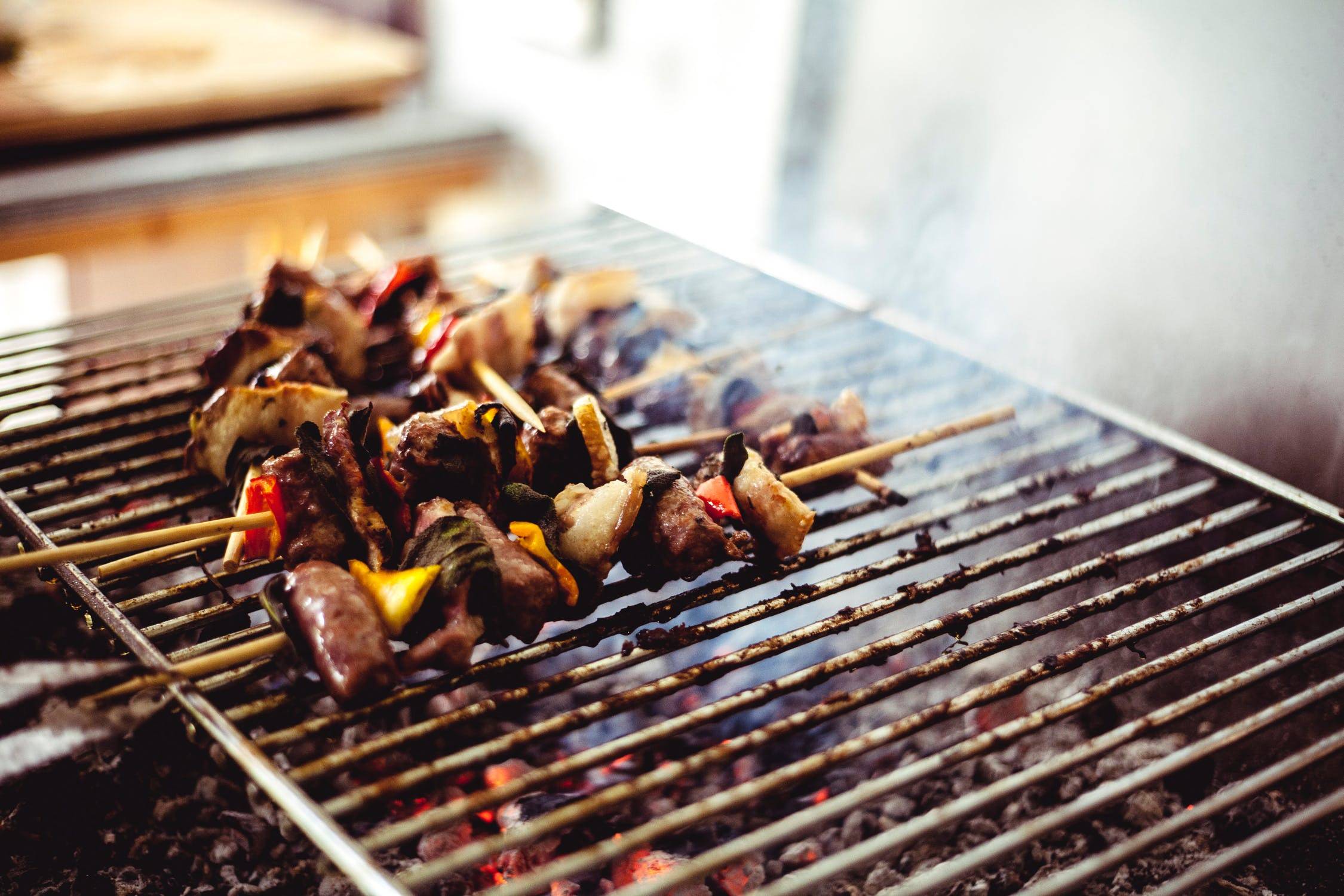 These are fun for the kids to make. You can have them put vegetables on the sticks. Mushrooms, peppers, and onions are all great kabob additions. Then you just lay them on the grill. Make sure you bring a hot pad to turn the sticks, they'll be hot!
If your kids don't eat vegetables, then go for pineapple. Grilled pineapple is amazing and tastes even better in the middle of the woods. Again, kabobs are perfect for family camping dinners because everyone can make their own. You can also cook pineapple chunks the same way you cook campfire marshmallows on a stick.
Family Camping Meals For Quick Breakfasts
Ah, breakfast. You stumble out of the tent to a cold foggy morning and your children are already yelling for breakfast. You can always pack premade muffins, but if you want something warm go for oatmeal and hot cocoa in the morning.
If breakfast needs to happen fast, you can skip the campfire and cook with a gas camping stove. Boil your water on the stove and then add it to oatmeal in bowls. Then cover the bowls with plates to let the water cook the rolled oats for a few minutes. Then you can add fruit, brown sugar, raisins, and everyone does their own again!
If you are cooking your water on the fire make sure you are using a cast iron and not the stainless steel pot you use at home. The fire will be too hot for the stainless steel. If your over fire grill is high enough you can use stainless steel on that.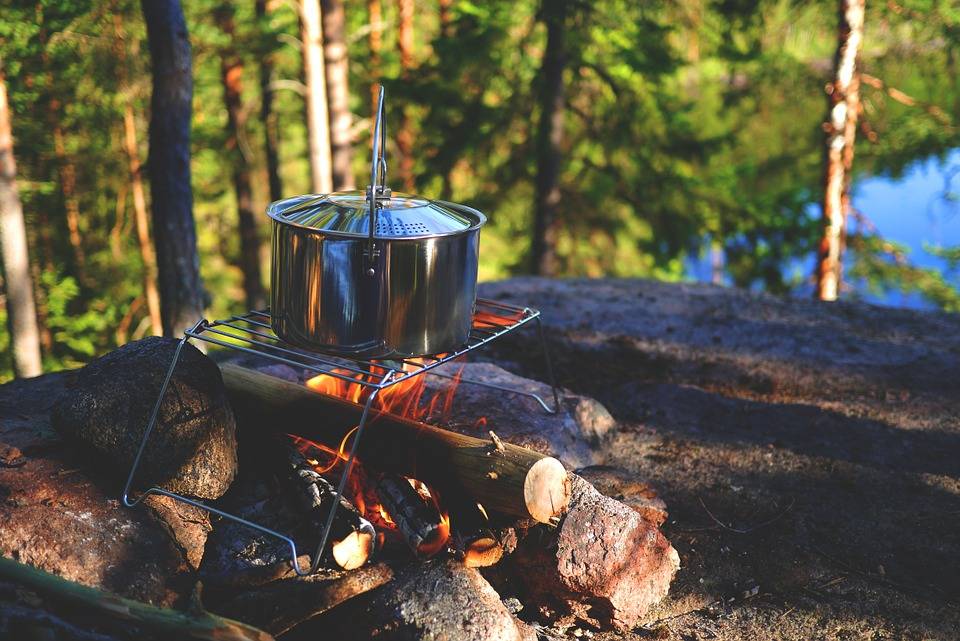 I like to just use water in the pots so that I don't have to wash out the oatmeal. That way I just have paper bowls and plates to throw away. Hot cocoa is also very fun in the morning for kids. Just add hot water to a cup with a cocoa packet. Quick and easy before you head out on a hike.
If you have the time to make the fire and don't mind the dishes, breakfast burritos are another easy camping meal. Using a cast-iron skillet, scramble eggs with sausage or ground beef. Then you just spoon the filling into each tortilla. Add some salsa or any other toppings you want and you have some happy campers. You can also warm up the tortillas on the over fire grill before filling them.
Family camping meals are a great time to make memories. You can do a lot cooking over a fire pit but these are my go-to easy camping meals for families. Hopefully, you're feeling a little more excited about the daunting task ahead of you. For some more camping ideas check out our post on camping hacks and tips for families.
Don't forget that while you are up on that cold foggy morning, you're going to need the most comfortable hoodie to start the day right.
Enter your email and receive 10% off your first order.