Farm Brand USA Jogger Style Guide- How to Pair Joggers?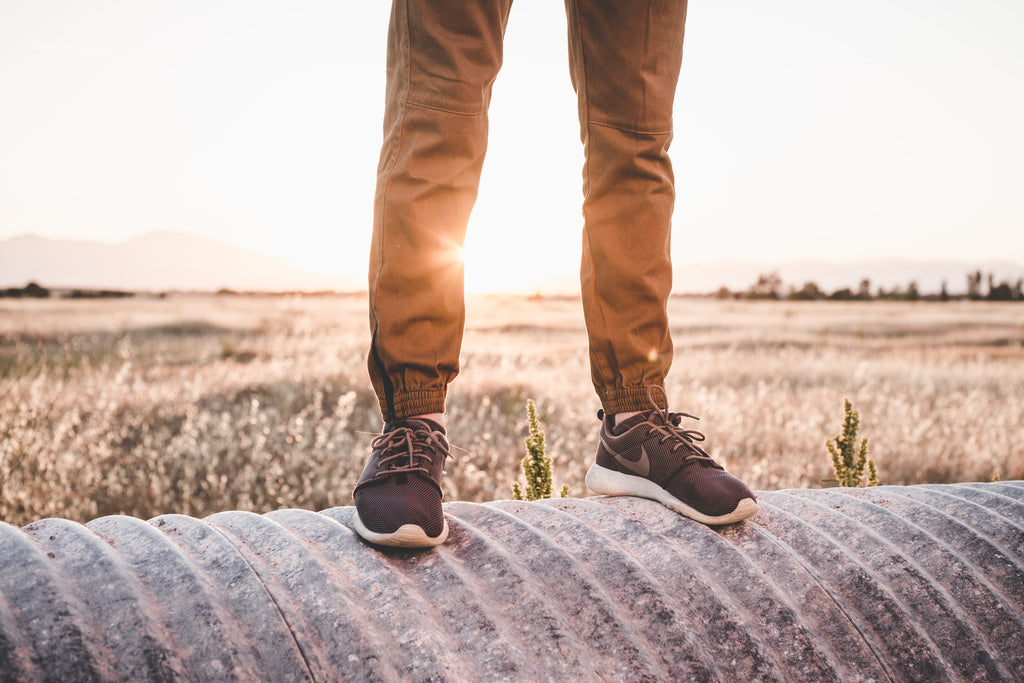 A guide for How to Pair and Style your Favorite Farm Brand Joggers 
If you have read our article "Why are joggers so popular?", and this has enticed you to purchase a pair of Farm Brand USA's affordable and incomparably stylish joggers, then you may be wondering 
"How do I style Joggers?"
This questions is an extremely fun one to answer, as joggers are some of the most versatile pants on the market, combining two of the best characteristics of which we seek in our clothing choices:
Comfortable and fashionable.
And because of the vast variety of uses for joggers, including exercising, yoga, loungewear, and most all casual occasions; understanding the best ways to pair them will help you to achieve the epitome of stylish relaxation. 
Your "Lazy Day" Style Guide
We all love those lazy, do nothing but hang around the house and read or binge watch Netflix kind of days, right? And when your plan for the day includes really no plan at all, then you have the freedom to dress completely accordingly. 
Maximise on your own lazy days by being as comfortable as you possibly can. And want to know one of the most comfortable pants out there?
Yup, you guessed it:
Joggers! 
So when utilizing the soft cotton and polyester fabric blends that our joggers feature for their cloud like softness, you will feel as if you are laying under the soft warmth of a blanket as you cruise around the house.
But best of all, you do not have to hinder any of your style to still receive that pajama-like feeling from your pants, as joggers always look incredible. 
Depending on the type of day at hand, the weather, and your overall vibe, check out these awesome style combinations for your perfect lazy day outfit. 
Fall-Winter Lazy Day Style 
Is fall or winter creeping around the corner? Are the temperatures slowly dropping into those nippy mornings and crispy afternoons? 
If so, then warmth becomes an important factor in your clothing choice. Yet let us steer away from the inferior sweatpants, as they look as though you have quite literally 'crawled' out of bed, and choose a pair of joggers that exudes a balance of style with relaxation. 
Our "Classic French Terry Joggers" offer you exactly the snug fit and feel that you need for optimal contentment throughout your chilly, lazy day. They are thin and lightweight without losing out on any of their cozy warmth, and because of such you can easily sprawl your legs out on the couch without any uncomfortable wedgies or tight pulling. 
They have deep pockets, both front and back, so no more losing your phone in the depths that is the corner of a couch. 
For a cold weather combination you will love, try pairing your "Classic French Terry Joggers" with one of our featured hoodies. Your best bet for this situation will be to choose a hoodie without a front zipper, so think something like our "Old Fashioned Lazy Comfort Hoodie".
After all, not a bad time to whip yourself up a good ol' fashioned cocktail anyways, am I right?
Easy to slip on, nice and loose yet warm and heavy. Like being hugged by a setting summer sun, even during the chill of late winter. 
If you are wearing the Classic French Terry Joggers in the 'washed black' color-way, then try adding some boldness to your outfit by combining it with a brightly colored hoodie. Both the denim 'old fashioned' hoodie and the light grey 'in-between' hoodie will offer you a subtle pizzazz that looks dynamic yet simple, a tribute to the quiet confidence of your personality. 
Spring & Summer Lazy Day Style 
If the temperatures outside are still warm, then you might want to wear a lighter colored jogger and a simple, breathable tee. 
Farm Brand USA's Cargo French Terry Joggers in the beige cream color-way are perfect for a spring or summer lazy day. The light color will help to deter the rays of the sun while showcasing the bright colors of these seasons. 
Because you want to be cool and comfortable, a hoodie will simply be too insulated. Try instead a nice fitting tee that isn't too tight around your body (Save the muscle shirts for the beach, boys).
You will look relaxed, but still very well dressed. And most importantly, Farm Brand Tees entirely embody the definition of soft.
If you are really feeling the light summer vibes, Pair the beige cream color-way with our orchid pink color scheme. The "All Star" shirt or the "Simply Human" offer the orchid color choice with their simple wording design that reminds you just how rad it is to be a human being. 
On the darker end of the spectrum, a hint of navy blue always does well with matching beige.  An excellent choice of a navy tee would be the "Guardian T-shirt". Subtle, sophisticated, and ready to lounge around with confidence. 
Your Workout & Gym Outfit Style Guide
Joggers enjoy being contradictory. They are the best pants for hanging around the house, but right on the other end of the spectrum, they are also the prime workout pants for both males and females. 
There really isn't a better outfit choice that wins over joggers for both the gym and outdoors exercise, such as running or hiking. They are:
Flexible so that you maintain a complete range of motion.

Fitted and tight on the waist so that you are never hindered by a loose fit. 

Lightweight and offer a layer of protection against gym germs.

Machine washable for after those sweaty sessions.
Gym style 
If you are wearing joggers at the gym, then you will never think twice about whether you look good or not while working out, for joggers are always sleek and stylish. The Farm Brand USA "Cargo French Terry Joggers" are one of the prime jogger choices for the gym.
Made from a 65/35 combed ring-spun cotton/polyester blend, these workout pants are extremely lightweight and breathable. The classic cargo look is perfect for the workout vibe, and they match with nearly everything, so it will never be difficult finding a good tee to pair it with.
They have pockets so that you can keep your phone and keys close by, 
and offer a comfort to the pain of which we love and seek when in the midst of reaching our workout goals. 
If you are in the gym, chances are you will be wearing a T-shirt so that you can maintain complete range of motion with your arms when lifting weights.
When paired with the Farm Brand "Lead" Tee, you will constantly be reminded of your ability to lead yourself to your own health and fitness goals, while also helping to lead other down the same path. 
Casual Public Outing Style Guide 
Heading out to the store to grab a few quick groceries? Going out to snag a coffee or quick bite with some friends? Traveling out of state for your next round of meetings?
Regardless of your situation, you can always maintain the level of comfy you so desire while still exhibiting a look that showcases an in depth knowledge of style and what it means to look upstanding. 
The old cliche "comfort over beauty" rings true, but with a pair of joggers as sleek and stylish as the "Gatsby Expression Joggers", you will never have to sacrifice too much on the beauty side of things to reach your high point of feeling really, really good.
Both in a literal sense, as well as in a personal, egotistical manner. 
Check out the elegant yet simple patter that will make heads turn as people realize these are a pair of joggers and not a pair of dress pants. 
To achieve the appearance that you have a complete grasp on your style when going out for your casual public outings, pair these joggers with:
A simple cardigan or blazer 
A tight fitting long sleeve Tee
A nice pair of tennis/dress shoes 
A non-baggy sweater
A Zip up hoodie, like Farm Brand's "Simply Human Full Zip":
A plain T-shirt (you can never go wrong here) such as:
You see, when you really get down to it, joggers provide you with a seemingly infinite number of choices in regards to how you wish to style them. Have fun with this endless possibility, as not many other pants will provide you this freedom of choice while also being one of the most comfortable pieces of clothing to wear. 
Cheers and love!