How to Declutter Your Closet and Get on With Your Life
How to Declutter Your Closet and Get on With Your Life
How hard is it to close your dresser drawer? How is the daily dig through the closet going? You may be surprised what a smaller wardrobe can do for your life.
When you have fewer clothes but they are clothes that you love, it will feel like you have more. This is because the clothes that you have are the clothes that you wear all the time. You know that feeling of a full closet with nothing to wear? Or even better, a full closet but you know right where your Farm Brand hoodie is so you skip the dig every day? We know that one well.
So it's time to declutter your closet. Those clothes you love won't be hidden among the dress you wore once and the shirt that you will fit into "someday". You can get right to the clothes you love.
Tips For Decluttering Clothes
When you declutter your closet, you allow yourself to be who you are, right now. You get rid of the clothes you wore when you used to work as a teacher. You get rid of the clothes you would wear if you gained weight or lost weight. You celebrate the clothes that you love right now. Decluttering your wardrobe helps you to live and celebrate now.
The best way to declutter clothes is to get everything out of the closet and drawers. Lay them out on the bed, the floor, the desk, go nuts. This way you have to look at each piece and consciously decide if it is something that you love and wear.
Ask yourself these questions:
Do I love this?

Is this comfortable and I enjoy wearing it?

Do I wear this enough to justify having it?
Does this fit me?

If the answer is yes then give it a coveted place in your closet. Hear that little hoodie? You won a place in my heart.  
You may like something but ask yourself when was the last time you wore it? There are some clothes you may love but they don't fit into your current lifestyle, so they probably don't fit into your current closet.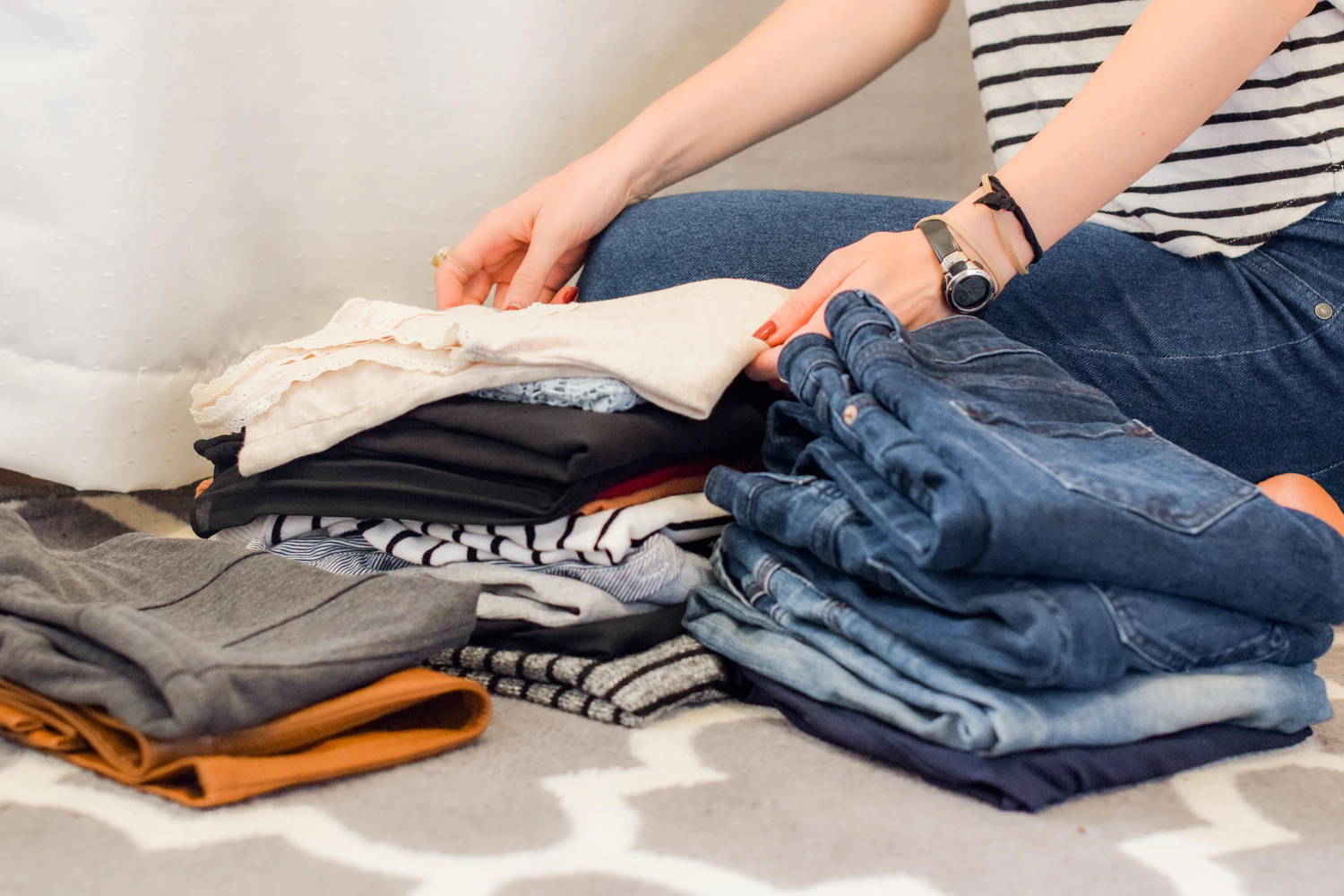 That's right, send the winners to their champion stand. Once you get them back in there, stand back and admire the closet chosen for who you are right now. If you are feeling really ambitious you can wipe down any dust and make the champion stand clean before you send the victors to their places.
Once you've decided they aren't making it back into your closet, you need to give them a new destination. Sort your clothes into piles to sell, donate, and recycle. You may even have some friends that are a similar size and you can ask them if they want any of your clothes.
Some towns have bins to recycle clothes. There are also different stores that have recycling and donating programs to cut back on clothes that are thrown away. Pact has a program where you can print a prepaid label and ship your clothes for donating. Some H&M stores let you drop your clothes off for recycling.
You may have a great local charity for donating as well so this part of decluttering clothes requires a bit of research. It's worth it to be responsible with your clothes!
How to Keep the Wardrobe Decluttered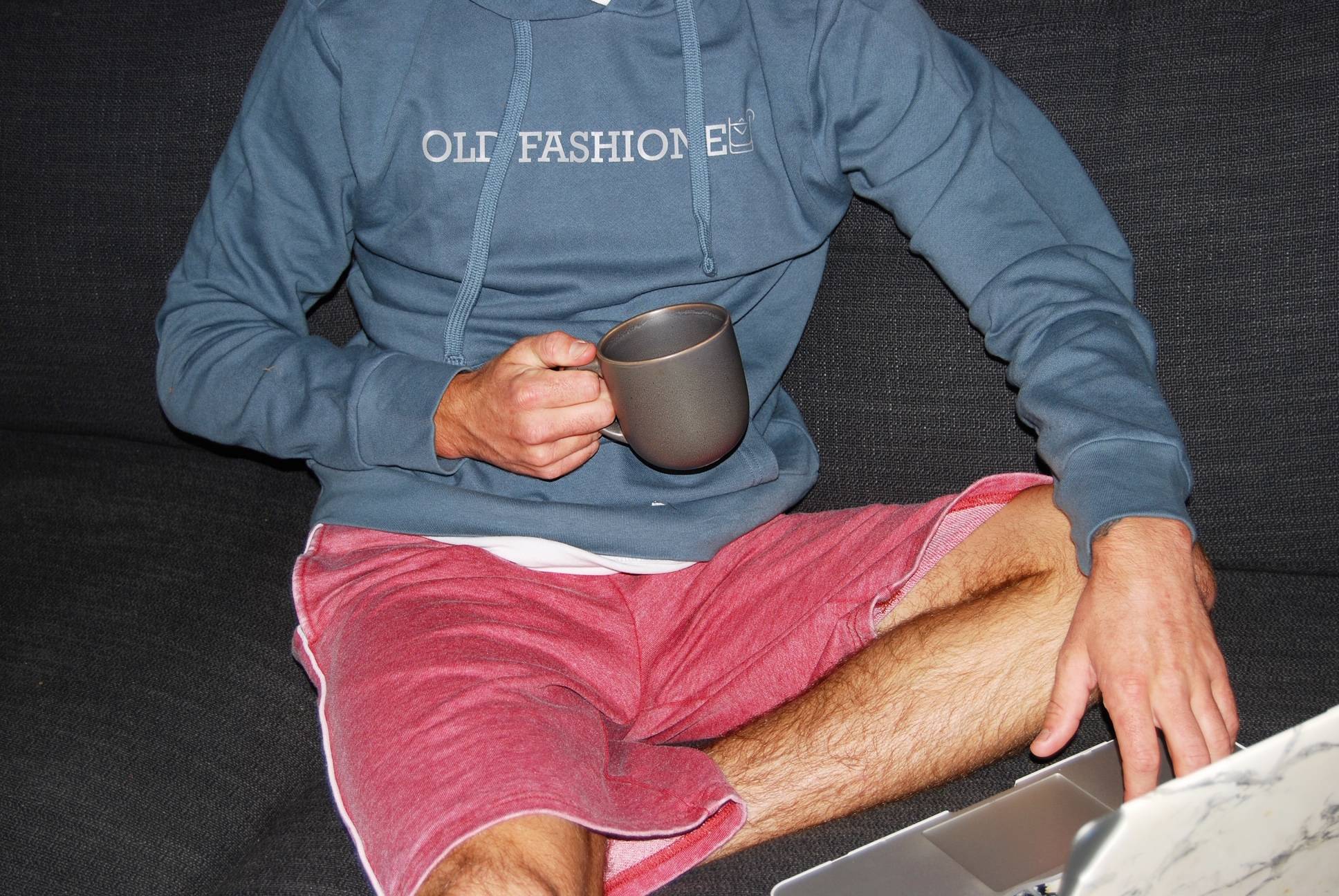 It's no secret that you will continue to buy clothes. Your lifestyle will continue to change. Your personality will evolve. You won't always love the same clothes. As you are adding new clothes to your wardrobe you need to also regularly clear out the clothes you no longer wear.

This post on a minimalist wardrobe has information on how to pick your clothes so that they stay in your closet longer and prevent you from needing to buy more. We find that comfortable clothes are the clothes that get worn the most. Farm Brand is all about a comfortable lifestyle. Even our friends who work in the office every day eventually come home to relax in Farm Brand.
When you add new clothes to your wardrobe, do so responsibly. Choose sustainable clothing brands that work to use recycled materials in their clothes. The more you support these companies the more they can do to use sustainable clothing processes. Farm Brand's Revert Fleece Hoodie is made from 100% recycled materials. Which makes it a responsible choice when it's time to add to the closet.  
Make sure your closet allows you to have room to be yourself, to be who you are right now. That is the ultimate goal when you declutter your clothes. It can be hard to let go of the person you used to be. Those jeans from college just aren't adding value to your life anymore, it's time to let them go.