Road Tripping 101 Part II: How to Travel Together Featuring Gnomad Home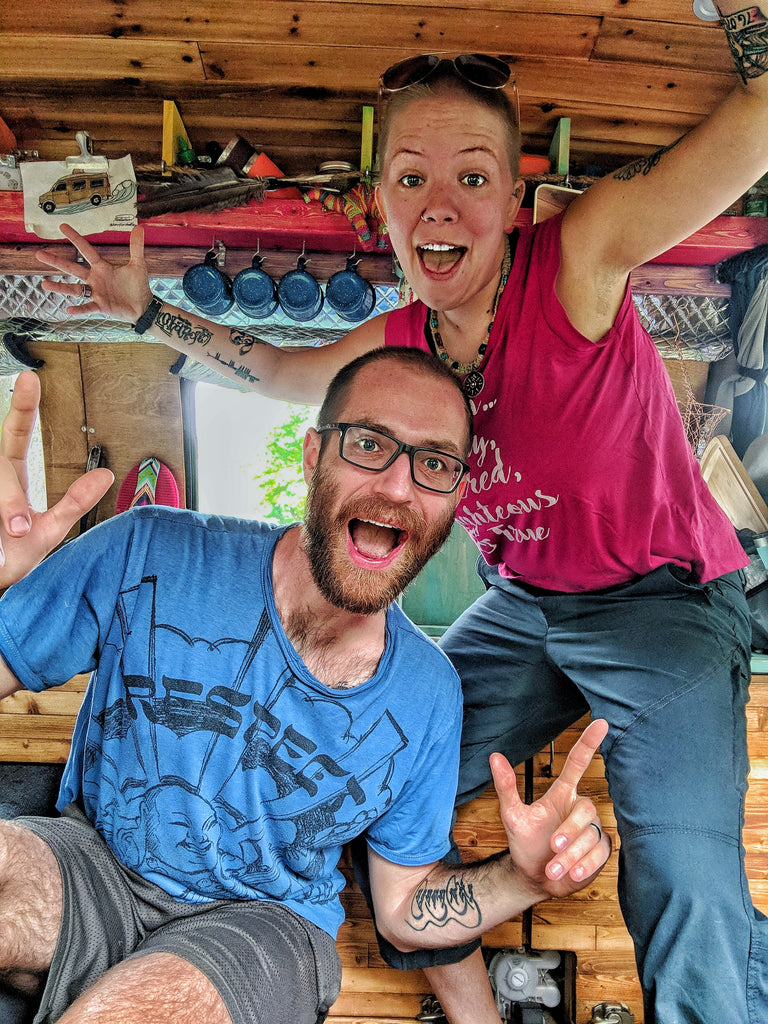 By Morgan Bernard
In our recent post, Road Tripping 101 Part 1, we dove deep into the van life world and learned how to best prep for life on the road. In Part II, we delve into the realities of living on the road and how to do so with your significant other and pets. Road tripping with your significant other, no matter how far, involves a lot of time together in a confined space. So, how can you ensure your relationship can handle life on the road? To find out how to tackle road tripping with your significant others, pets, and anyone else who might want to tag along, we talked to the wandering couple behind Gnomad Home, John and Jayme. Jayme, John, and their two pups, Nymeria and Delilah, can typically be found wandering throughout the Southwestern United States in their 1996 Chevy Express 1500. Lately, the team behind Gnomad Home has been relatively stationary in New Mexico with their newborn baby, but they remain leading experts in the field of van life and road-tripping. To help our readers better understand how they can transition to life on the road with the ones they love and their pets while still working, we called up John and Jayme.
---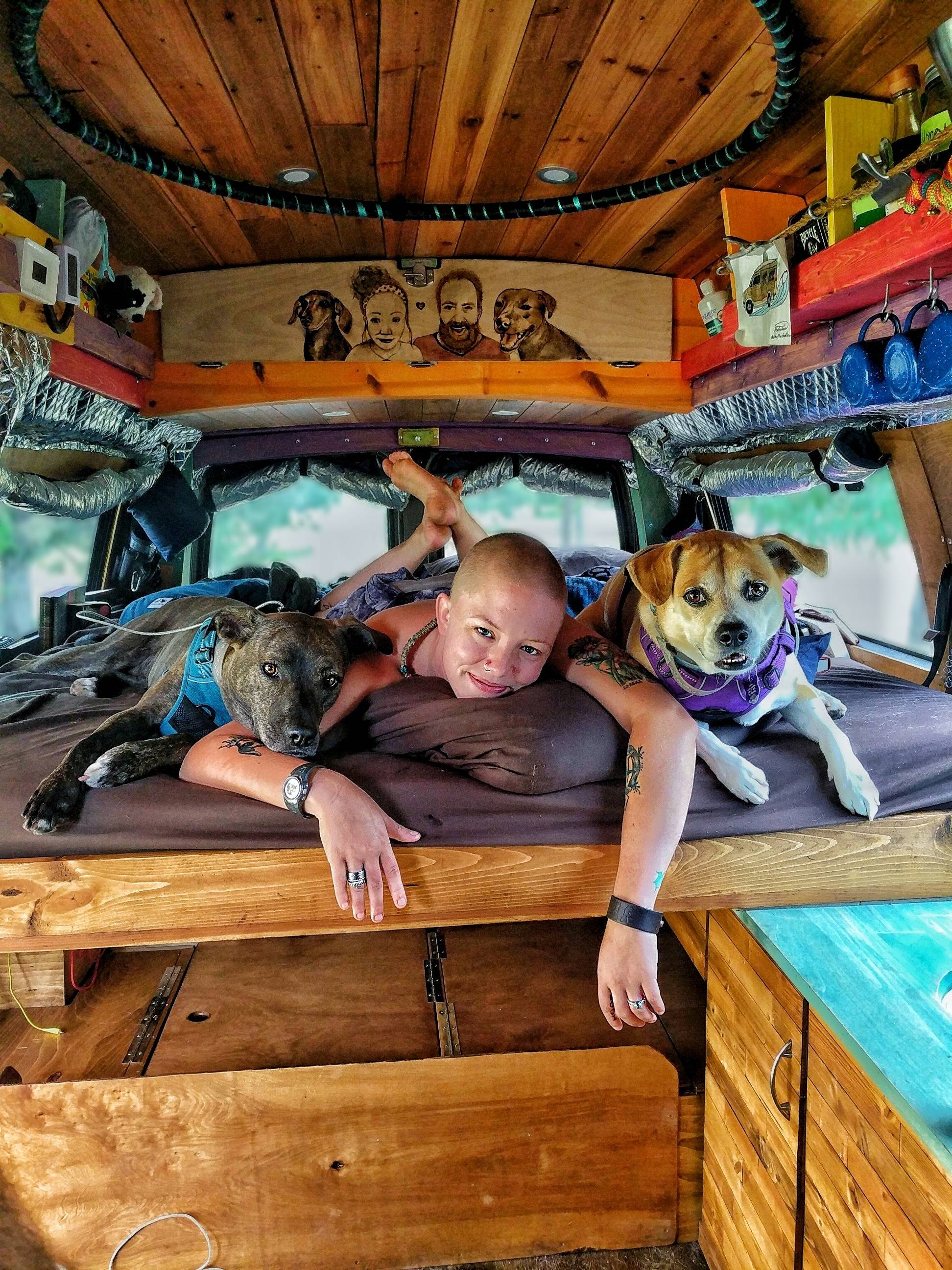 ---
Tell me how you guys found your way into the van life world and living life on the road.
---
We had a very typical married life in the suburbs with stable jobs we liked, but we had this idea that we would quit our jobs and go backpacking. We had traveled in Southeast Asia pretty extensively and have wanted to backpack again. With our dogs though, backpacking didn't' seem like an option. At first, we looked at just road tripping around the US and camping, but then we stumbled upon the van life movement online and saw that as the clear best option. -John
---
How long did it take to find your van and transform your van into something road trip worthy?
---
It took us a few months to find the right van. We settled on a used 1996 Chevy Express and paid a total of $1500 for it. Because we were both still working, the van transformation was gradual. It took us just over 6 months to get on the road. -John
---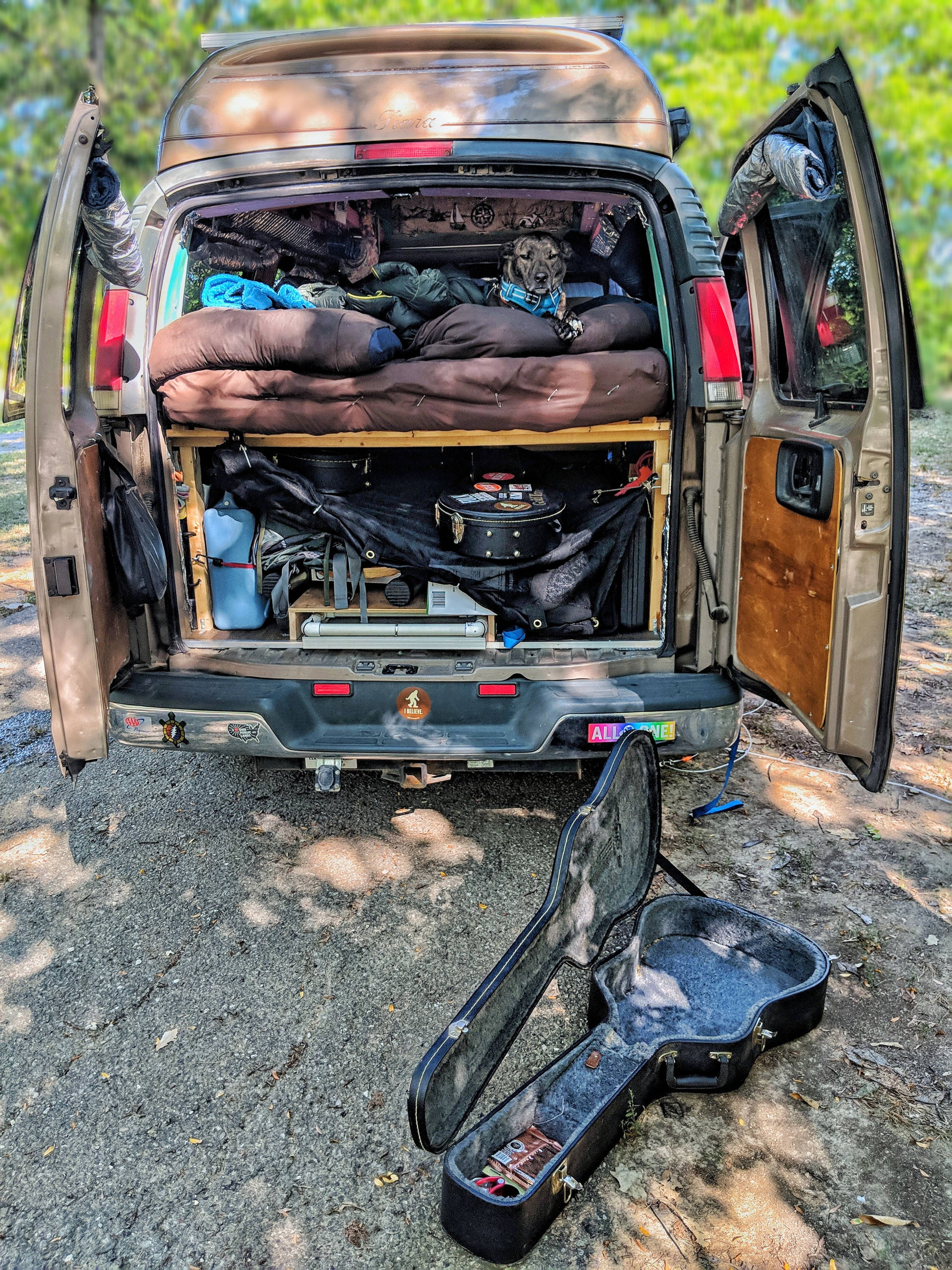 ---
Once the van was ready, where did you head first?
---
We started in the southwest and then slowly made our way southeast. Although, finding places to sleep is a lot more difficult in the Eastern United States because there is much less public land. -John
---
How did traveling with dogs influence where you went in your van?
---
Dogs are often not allowed on trails in national parks. Because we were with dogs, we largely avoided national parks and stuck to public lands. We also wanted to be sure the dogs were in safe temperatures. We'd spend a lot of the colder months in the southwest and move north as it got hotter. If we found ourselves in a hotter climate, we'd always try to sleep at elevation so that the dogs were comfortable. For the most part, we stayed in areas where the dogs could join us for whatever activity we were there for, but if that wasn't the case, we used rover to find a trusted dog sitter. -Jayme
---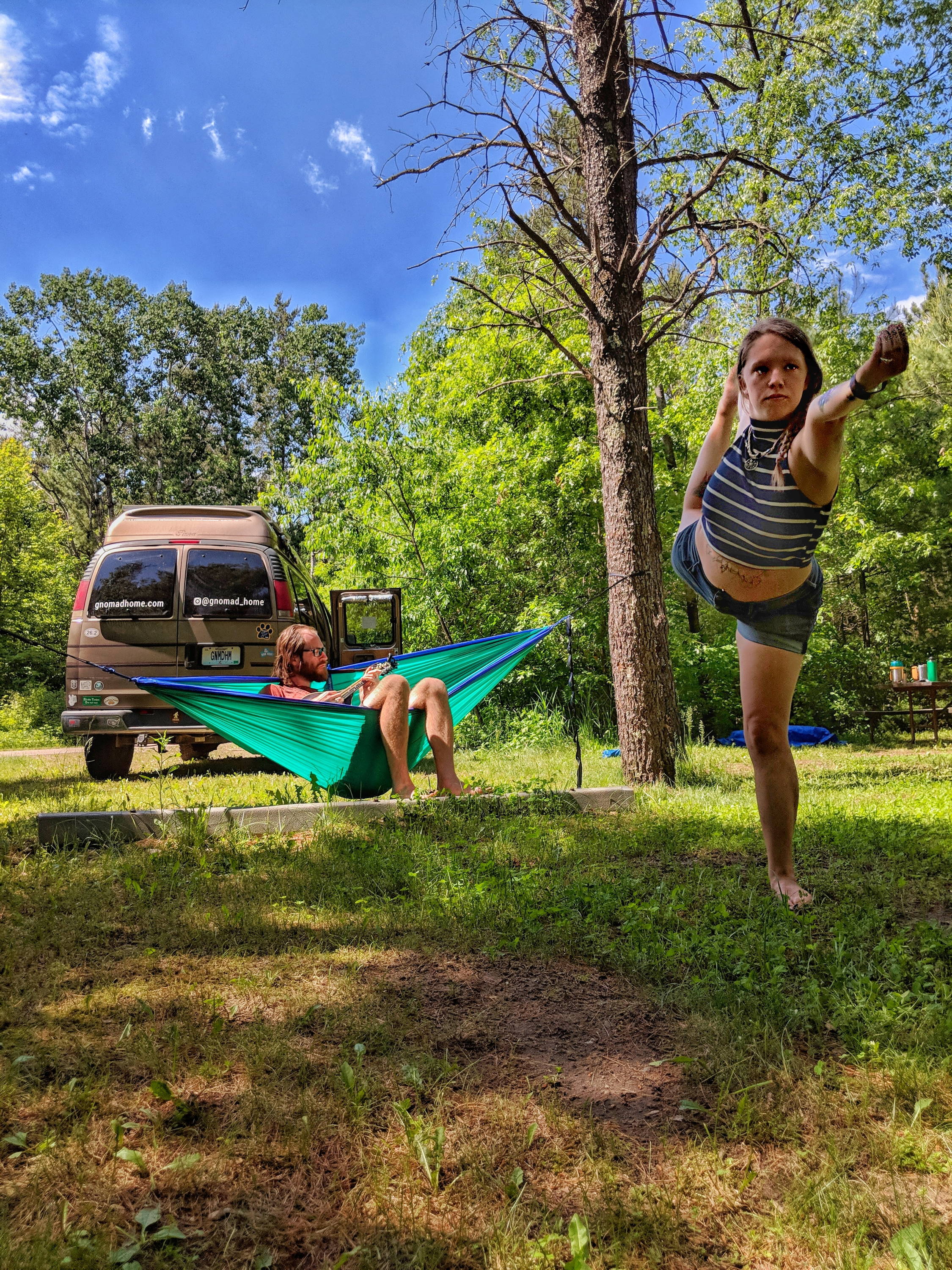 ---
Traveling as a couple obviously comes with a few challenges. How did you both navigate living and traveling together in such a confined space?
---
While it may be difficult, setting some type of routine on the road can help you avoid small conflicts. Knowing who is going to get up and start the coffee while the other makes the bed can really simplify your day. Alone time is also still really important when traveling together, and depending on where you are, alone time can take many forms. It could be a solo hike or just reading outside by yourself. Clear and frequent communication is perhaps the most important thing. Always let each other know how you're feeling. -Jayme
---
How did the two of you navigate working and finding cell service / WIFI while on the road?
---
 The entire time we were on the road, we were working, so finding cell service and being able to hot spot were vital to our entire trip. We used a detailed signal map from Open Signal to find coverage areas for work. -John
---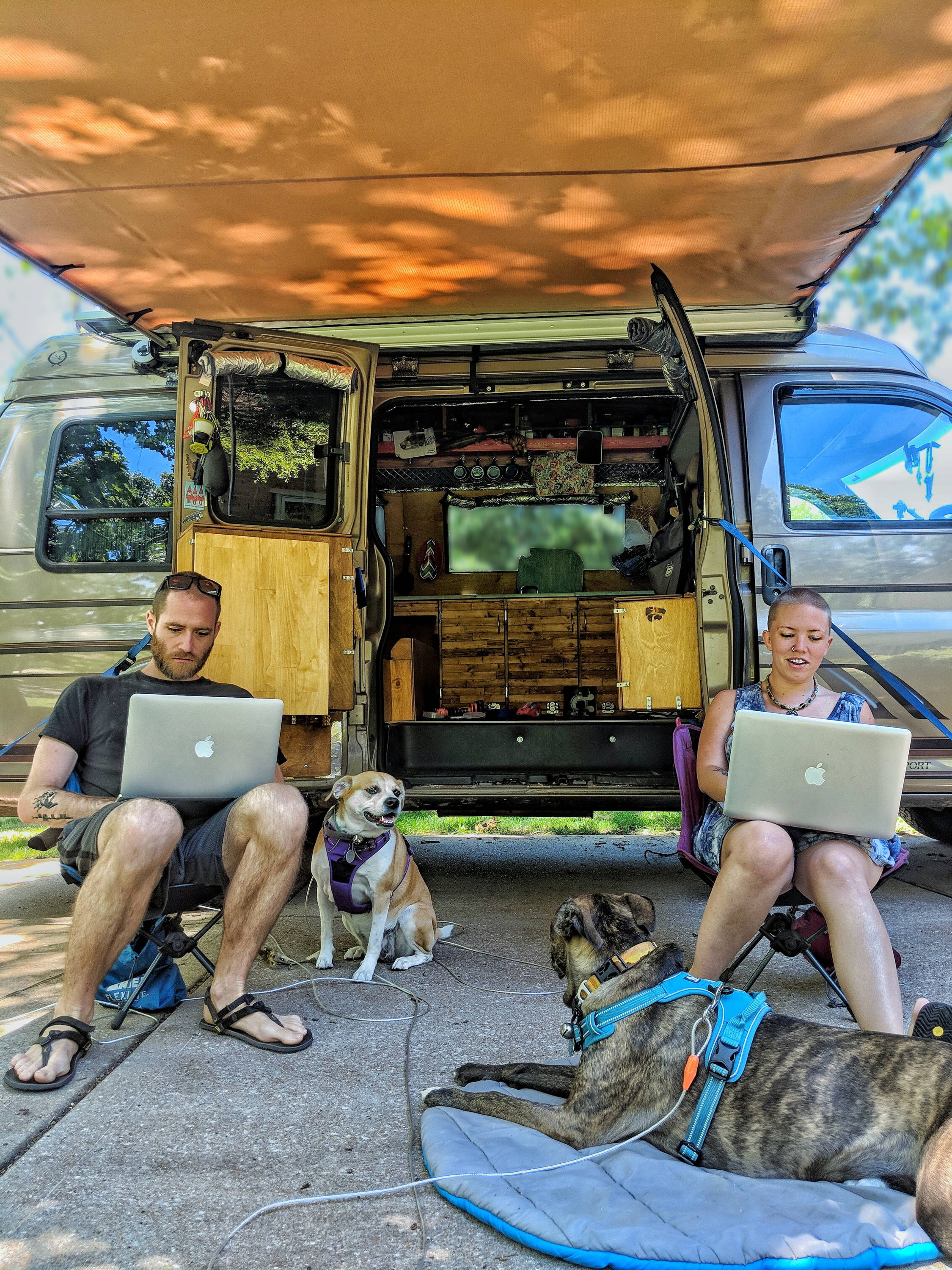 ---
What advice do you have for anyone looking to hit the road more permanently?
---
If you're converting a van, pick three things you can't live without and build around those features. For us, it was a big bed, off-grid capabilities, and lots of storage. -Jayme
I would also advise test driving your van throughout the build, so you can make tiny adjustments based on how the van handles on the road. Also, be ok with hitting the road before your van is ready. You can always make adjustments on the road. Getting out on the road is the most important part. -John
To follow along with Jayme and John, check out their Instagram and website. For more travel content and inspiration, stay tuned to the Farm Brand blog.