Rock Climbing 101: Farm Brand's Guide to Rock Climbing for Beginners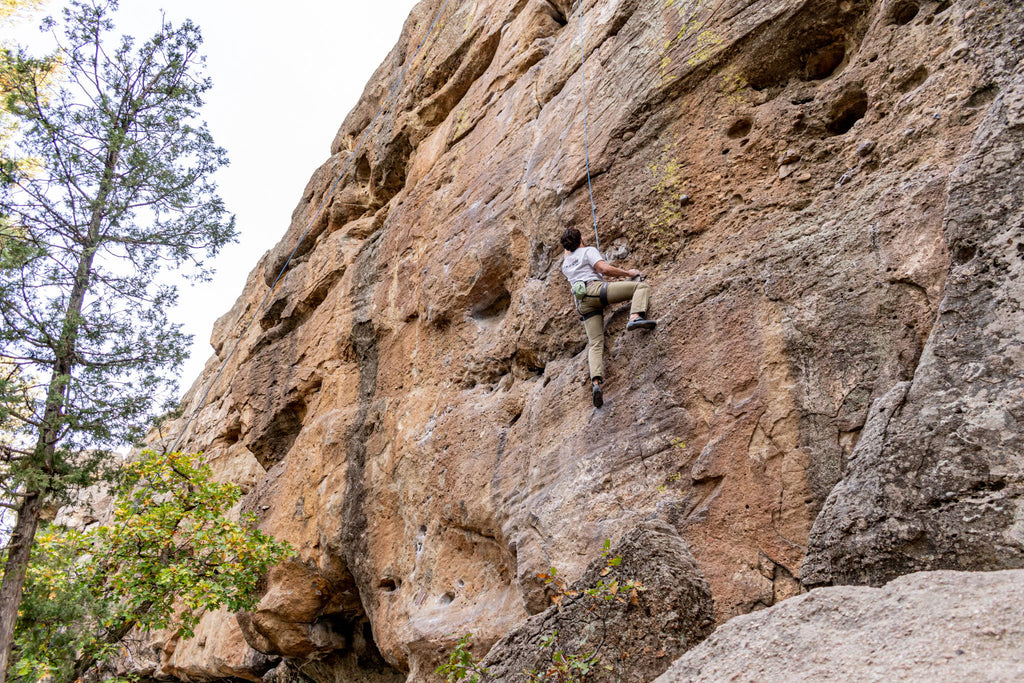 By Morgan Bernard
If you haven't noticed by now, rock climbing is "in." Every day, people of all shapes and sizes are picking up chalk bags, cramming their feet into undersized pointy rubber shoes, and heading to the nearest climbing gym or crag. In the last five years, rock climbing has experienced exponential growth in popularity, thanks in part to stellar documentary films like Free Solo and Dawn Wall, which captured some of the sport's most daring feats. While rock climbing may seem like an inherently high-risk activity, that risk is mitigated by thorough preparation. If you've ever had the urge to scale wales and defy gravity but just don't know where to begin, continue reading below for Rock Climbing 101: Farm Brand's Guide to Rock Climbing for Beginners. In this all-encompassing guide, we delve into the varied climbing styles that make up modern rock climbing. We also address how new climbers can bridge the gap from gym climbing to sending walls in the great outdoors.
---
---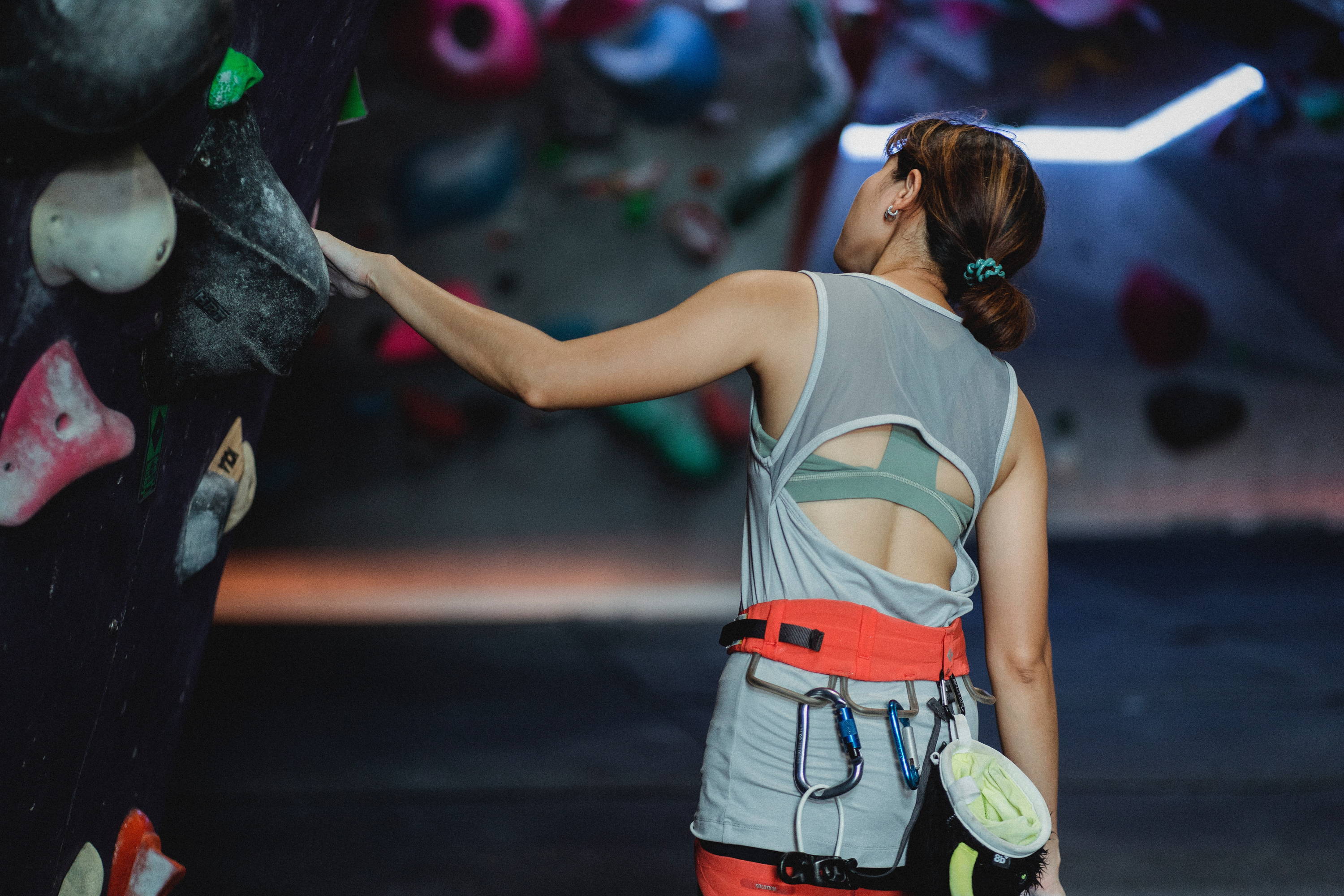 The idea of climbing up sheer rock faces is, at the very least, intimidating, but with a little preparation and practice, virtually anyone can rock climb. One of the easiest ways to begin your climbing journey and to meet fellow rock climbers is to head to your local climbing gym. While it may not sound logical, most climbers actually climb indoors. Climbing gyms have been around for decades but have exploded in popularity in the last 10 years. Nothing can compare to the feeling of ascending a rock wall surrounded by nature, but climbing gyms allow for climbers to hone their craft in a safe environment. Additionally, climbing gyms allow you to climb in urban settings when getting to the mountains is not possible. To climb indoors, you just need to show up. Climbing gyms have introductory classes and rental equipment, including shoes, harnesses, and chalk. Additionally, in climbing gyms, most routes you'll climb will have prefixed ropes.
---
---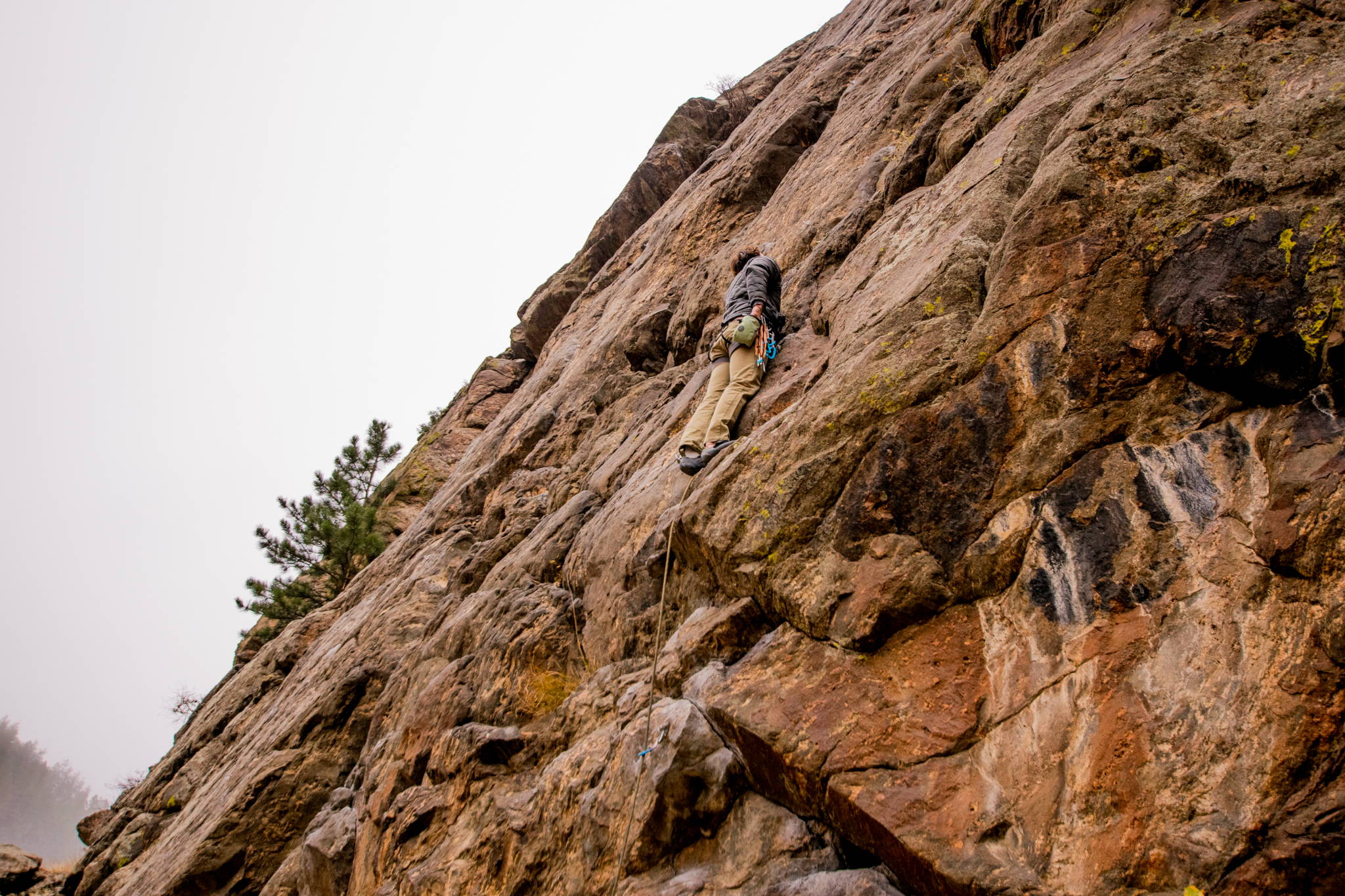 To climb outdoors, not only will you need to bring all your equipment, but you will need to set your own ropes and anchors. This adds an extremely high level of risk to outdoor climbing. If you set your anchors or clip into a bolt incorrectly, you could seriously injure yourself or even die. New climbers should not attempt to outdoor climb without experienced climbers who are familiar with the proper knots and equipment necessary for climbing. Fortunately for new climbers, it's possible to prepare for outdoor climbing at your local climbing gym. If you're not climbing with a guide, you can take introductory courses at a climbing gym that will teach you the necessary knots and introduces you to the equipment and techniques required for outdoor climbing.
---
Types of Climbing: Bouldering
---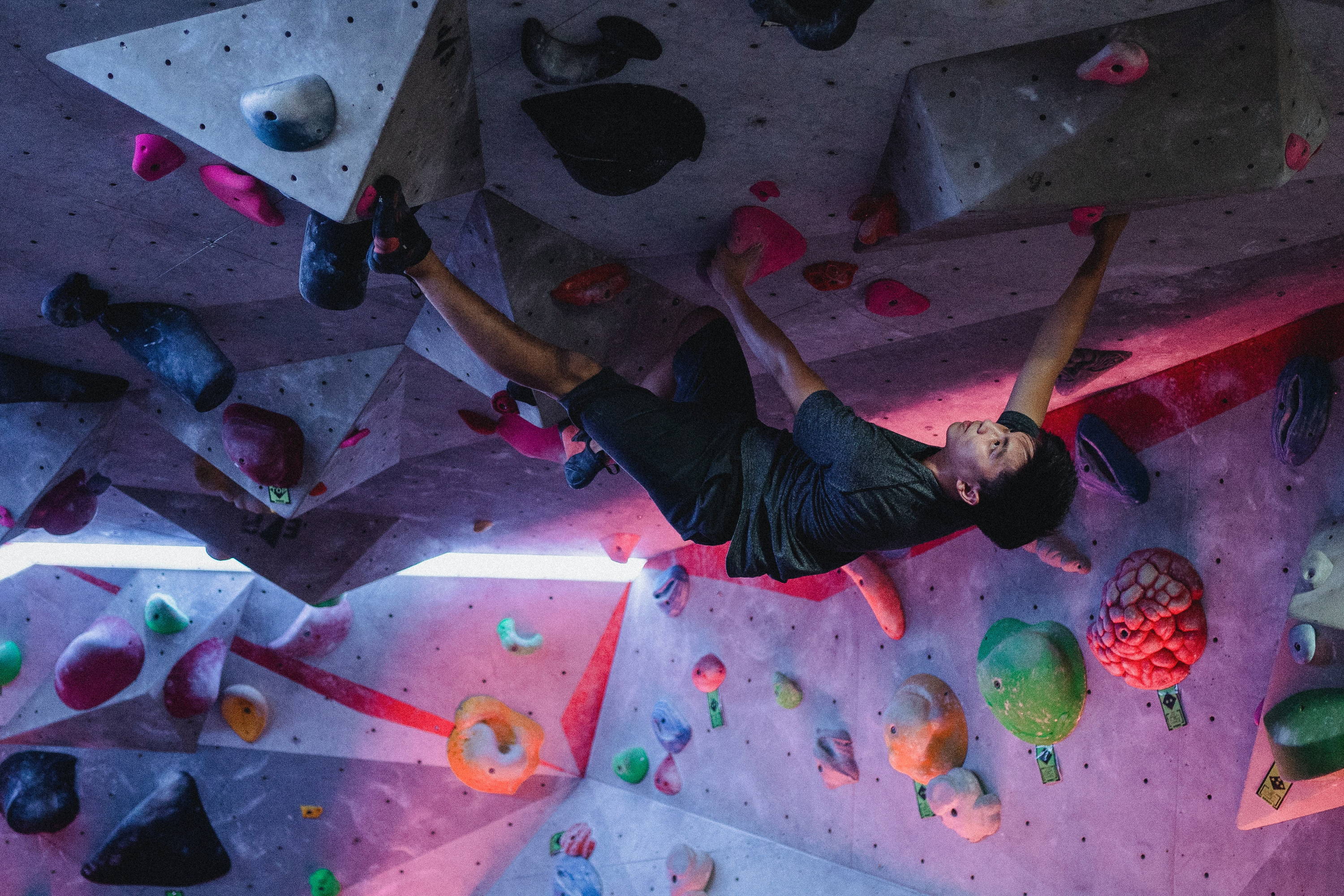 Bouldering is the simplest form of climbing. Bouldering involves climbing a rock or boulder fifteen feet or shorter, without the use of a rope. In bouldering, routes are called problems and typically involve physically challenging movements covering a short distance. Many climbing gyms have bouldering sections where climbers try their hands at different problems over padded flooring. To boulder indoors, all you need is climbing shoes and chalk. To boulder outdoors, climbers need shoes, chalk, a climbing budding, and one or more crash pads.
---
---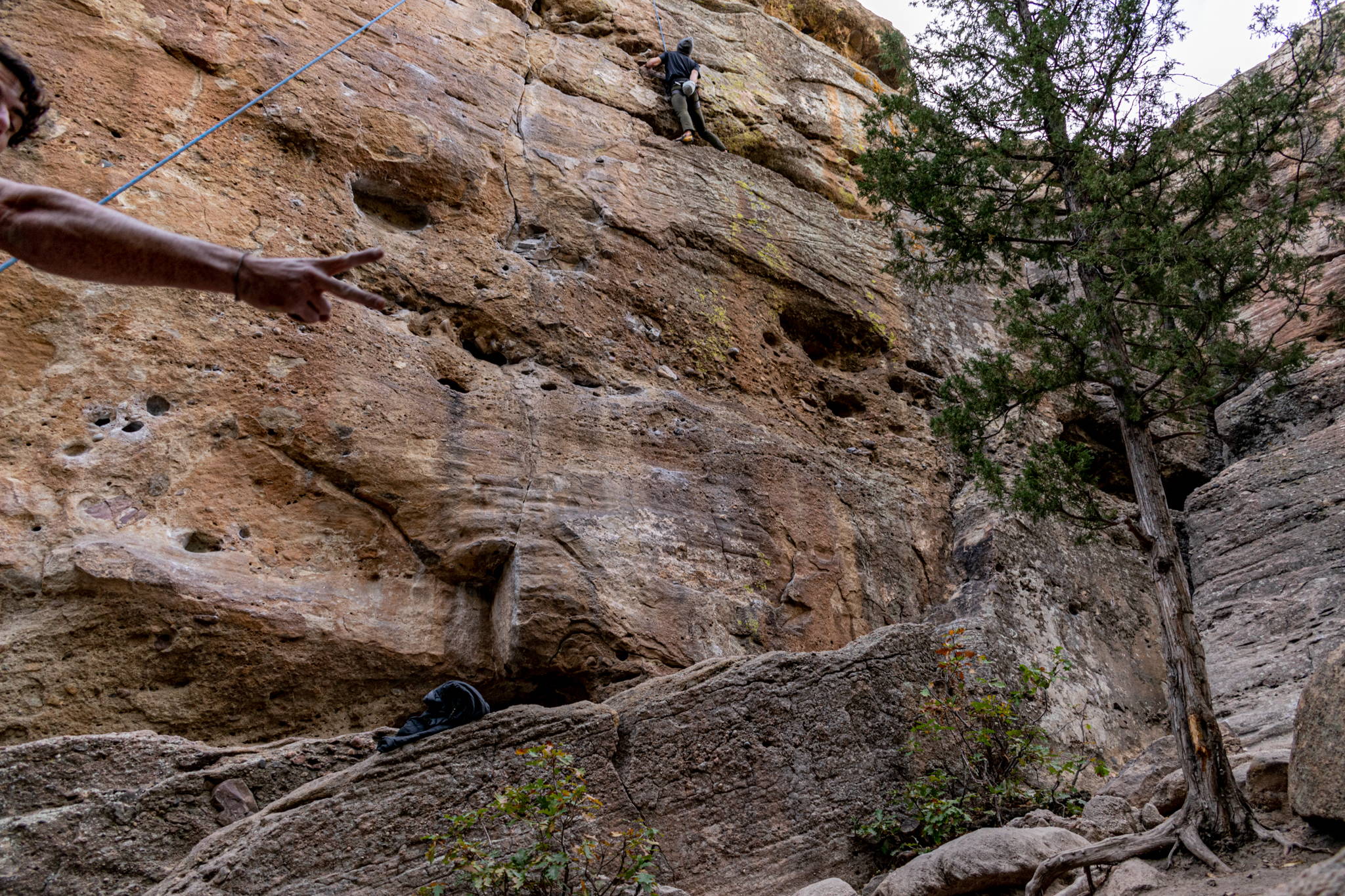 Top rope climbing is the most common style of climbing practiced at indoor gyms. Top rope climbing involves climbing a wall attached to a rope that is anchored at the top of the wall and tied to the climber's harness. As the climber ascends, a partner belays. Belaying is an essential part of climbing. Your partner pulling in the ropes slack as you climb is known as the "belayer." In addition to pulling in the slack as you climb, it is the belayers responsibility to use the rope and belay device to catch you if and when you fall. If you're a new climber, your belayer should be an experienced climber or trained guide, especially if you're climbing outdoors. To top rope, climbers need a climbing rope of the correct length, a harness for both the climber and the belayer, chalk, anchoring devices (if you're climbing outdoors), and climbing shoes.
---
Sport Climbing (Lead Climbing)
---
Like top-rope climbing, sport climbing involves climbing up a rock face while attached to a rope with a belayer on the ground. Unlike top rope climbing, sport climbers set their rope as they go. Sport climbers use a piece of climbing equipment called quickdraws (two non-locking carabiners connected with webbing) to attach the rope to fixed bolts on the rock face as they climb. Sport climbing is significantly riskier than top rope climbing because a climber is only supported once they clip into the first bolt. So, for the first 10-15 feet, the climber is unprotected. Additionally, in sport climbing, you can fall twice the distance between you and the last bolt. So, if you are 10 feet above the last bolt you clipped into and you lose your grip, you will fall 15 feet to that bolt and an additional 15 feet past it. In gyms, quickdraws are already placed on the wall. Sport climb outdoors, a climber will need to place the quickdraws as they climb and then lead the rope through each quickdraw once it is clipped. Quickdraws are typically placed by the first climber and left for the other climbers to use. The last climber cleans the wall of all equipment. New climbers should not sport climb or belay sport climbers without an experienced climber present, even if they are experienced top-rope climbers.
---
---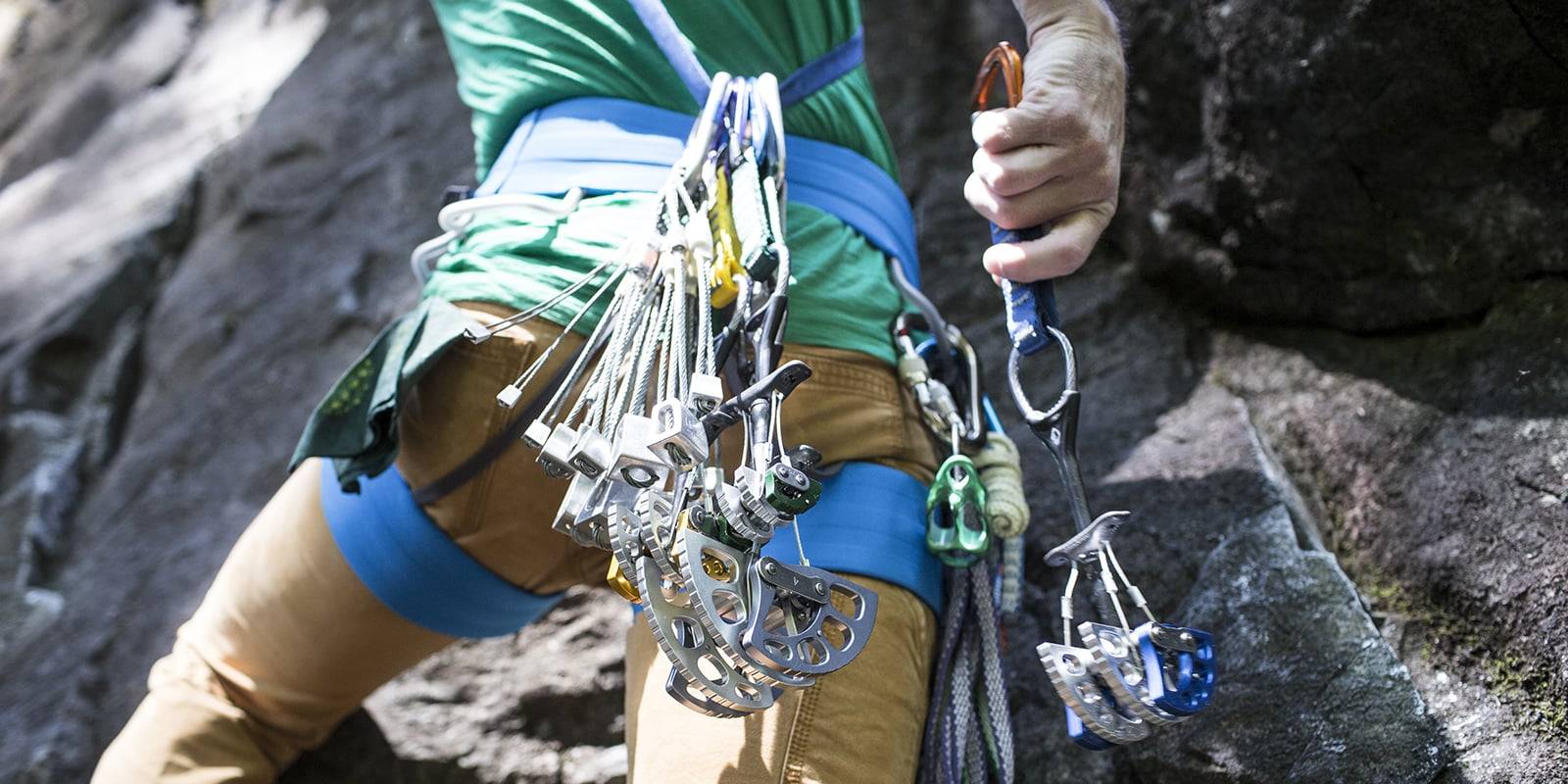 Image credit: REI
Trad climbing, short for traditional climbing, is a method of climbing where the lead climber places his or her own protection on the rock face as they ascend. The last climber to ascend and subsequently descend removes the protection. The difference between Trad and Sport Climbing is that in Trad Climbing, climbers are not relying on fixed bolts drilled into the rock face, but rather are placing removable protection into the wall's cracks and other features. Trad climbing is significantly riskier than other forms of climbing. If the gear is placed incorrectly, it will fail.
---
How to bridge the gap between outdoor and indoor climbing
---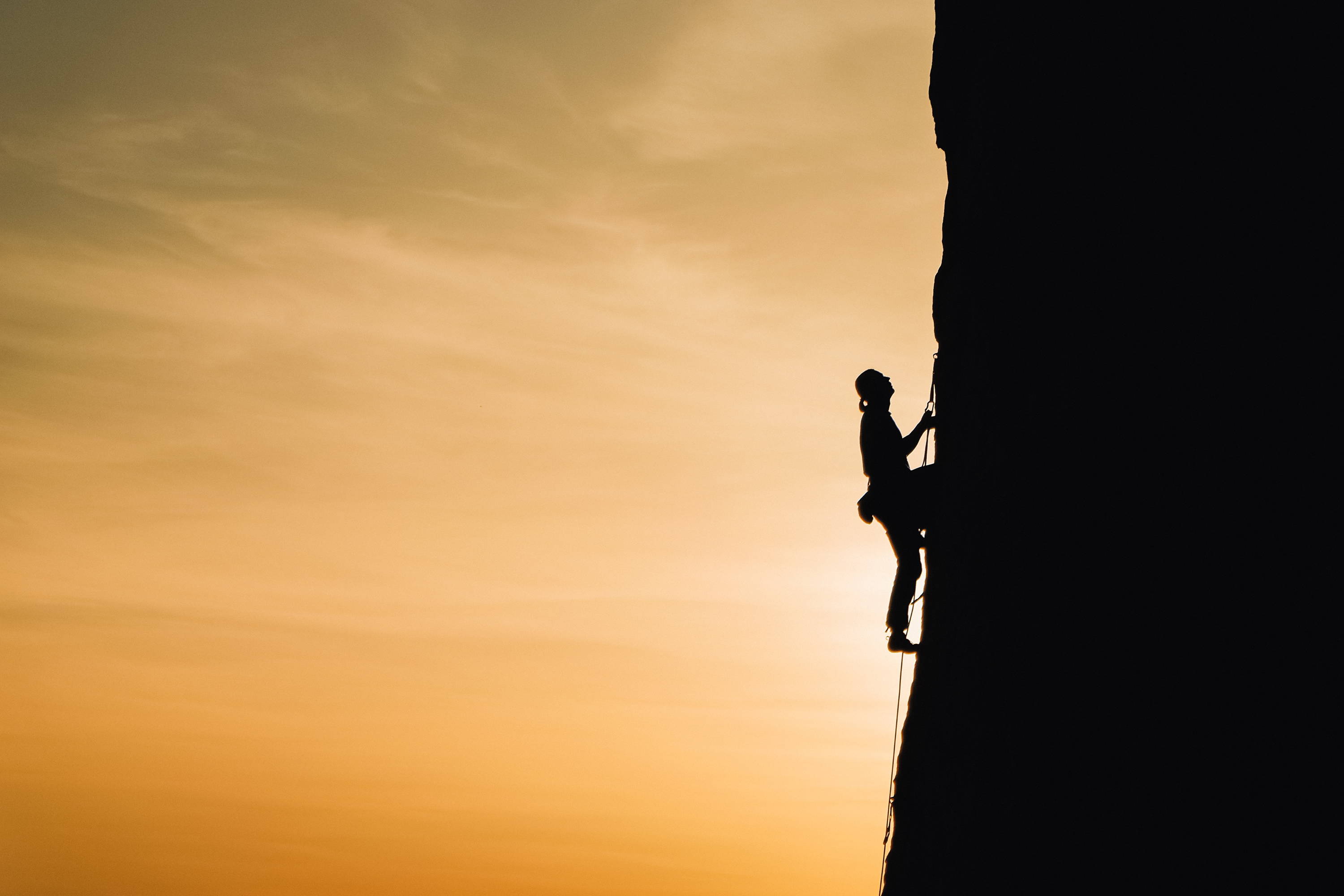 Climbing, like all learned skills, is a cumulative pursuit. A climber must spend enough time on the wall to develop a sense of confidence and safety to excel. Fortunately for new climbers, the path forward is linear. If you want to start climbing, head to your local climbing gym and learn to belay, feel out your skill level while bouldering, and get comfortable being off the ground. Next, head outdoors with a guide or a group of experienced climbers to try your hand at top-rope climbing outdoors. Once you are comfortable top-rope climbing indoors and outdoors, have a good grasp on your skill level as a climber, and an understanding of the equipment, give sport climbing a shot. Remember, as a new climber, to always climb with experienced climbers or guides. The climbing community, while growing rapidly, is a tight-knit, yet welcoming group.
Now you're ready to send your next problem or route! Stay tuned to Farm Brand's blog for more adventure and climbing content.