Surviving the Car Ride: Road Trip Ideas for Kids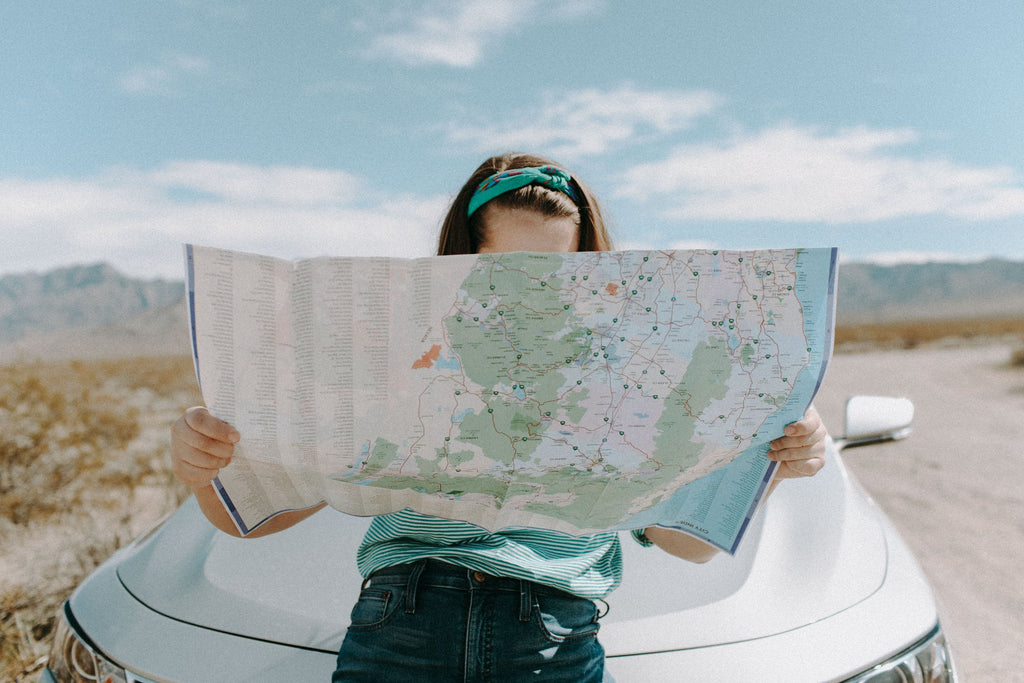 Surviving the Car Ride: Road Trip Ideas for Kids
How did your last long road trip with kids go? Were you defeated? I've been there. I had possibly the most high-strung child you can imagine. Luckily she has grown out of the worst of it but I have mastered my road trip with 18 month old strategy.
A car trip with children is all about preparation. You can't run into battle without a whole lot of tricks up your sleeve and expect it to go well. You need strategy. Here are my best road trip ideas for kids.
Leave Early in the Morning
I know that driving through the night is a popular strategy. I don't like it. I have tried traveling through the night and you know what happens? You arrive at your destination totally exhausted. Who wants to start a vacation off that way? Driving through the night isn't the safest option either.
What I do is pack up the car the night before, so that I can pull the kids out of bed and put them straight into the car as early as I can. If your kids are young, they may go back to sleep if you are putting them in at 4 or 5 AM.
Dry cereal, strawberries, and bagels are all good ideas to have ready for a fun breakfast on the road. It starts the road trip off on a good note. You're doing something fun and different. You also get some good driving time during the morning daze.
If this is a long road trip with children, you will want to divide each day into 2-hour blocks of driving time. If this is a shorter trip, say four-hour day trip, you can do one-hour blocks. Now, with each two-hour block, you will plan what you are going to do for those two hours.
Then, the key is to stick to your guns and follow the schedule. If you decide you are going to do stickers as the fun activity for the first block and they are bored after 10 minutes, then don't move to the next activity. You will get some pushback. Trust me, it's better than rushing through all of your ideas in the first hour because your child never caught on to the idea that you were on a car trip.
Part of a long road trip with kids is teaching them how things will be done while you are on the road. It will be different from what they are used to. If you let them get used to it in the first 6 hours of driving, your next 6 hours will be much better. Now, what do we fill these blocks up with?
If your child is older, then a trip journal is one of the best road trip ideas for kids. Every time you cross a state border, it should be recorded in the journal. Tell them to draw a picture of every place that you stop. Every time you get back in the car, they will have an assignment to work on their trip journal. It will be fun to look back on all of the places you've stopped.
Giving each kid a small cookie sheet is another one of the best road trip ideas for kids. This way they have a place to draw and put colored pencils and they aren't constantly rolling away. Magnets on a cookie sheet are one of the best tips for road trips with toddlers.
A quick note. Crayons melt in the car. If this is a summer trip, leaving crayons on the floor of the car could get messy. I have never had this problem with colored pencils so we stick with those while on a family road trip.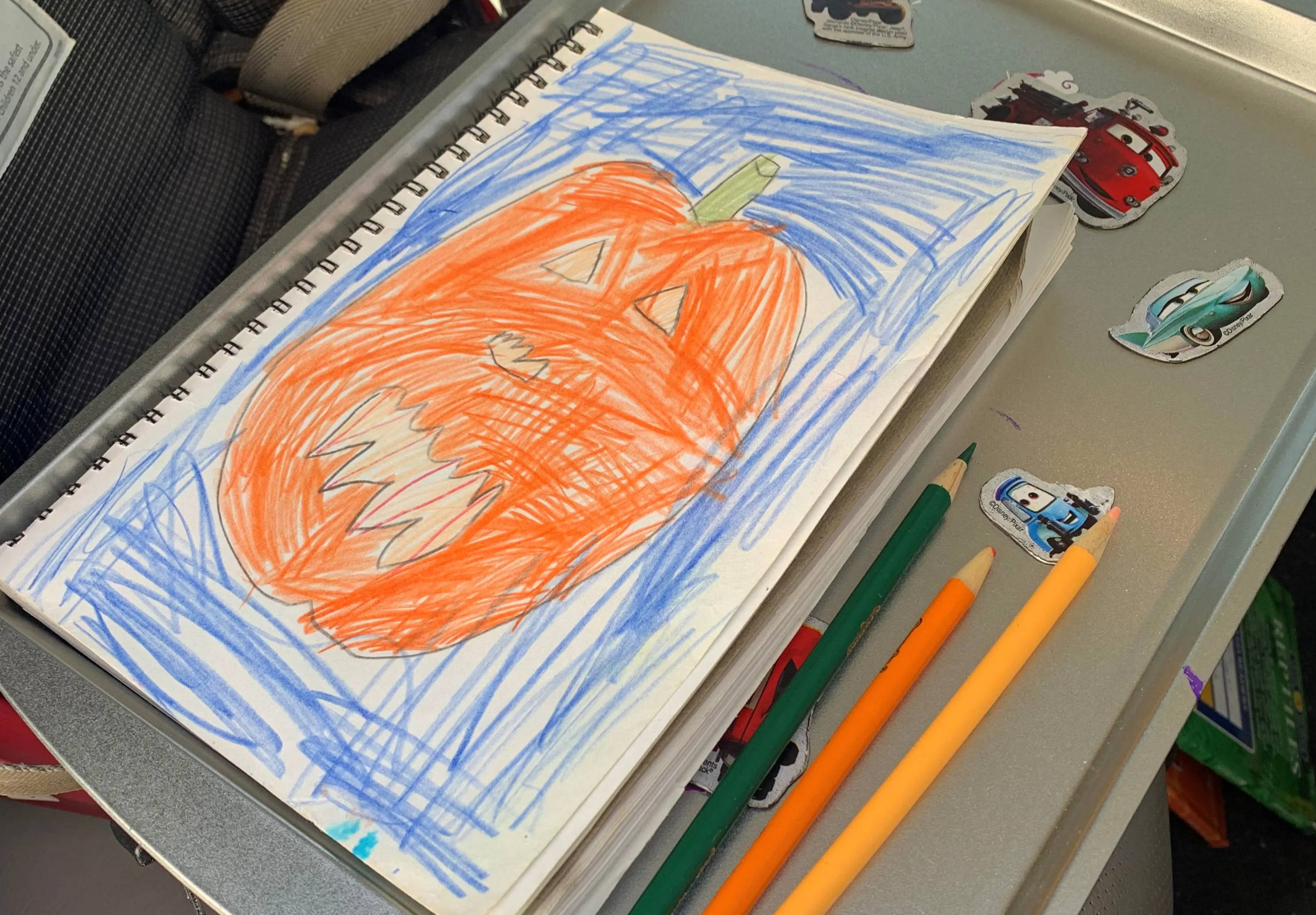 What I do is make little baggies so that each kid has a baggie every two hours. You can get them a toy that they have been wanting and surprise them halfway through the trip. Car activities don't need to be expensive though. Here are some ideas to use for each of those blocks:
pipe cleaners to make animals out of

new magnets for their cookie sheet

photo books of past trips

friendship bracelets for older kids (tape the string to a book)

sticker books

glow sticks when it gets dark

lacing cards

magazines and nature books

play a story time recording or fun music on the car speakers

dance party in the car
I almost always have a box taped shut in the trunk so that we are not tempted to break into more activities too soon. What I have learned is that day 2 goes much better than day 1. The kids get into a groove and they aren't so disappointed in the fact that they are strapped down all day.
You also have all of the activities from the day before to start the day off with. So the first couple hours of day 2 we will stick to the activities from the day before without getting out anything new.
One of the biggest things to recognize is how powerful your mood is. If you are sending off good vibes about the family road trip, the family will pick up on it. Just think about the language you use. Don't say, "well this is a 12-hour drive so you better get used to it!". Say things like, "I am so excited for our first stop in two hours!" Talk about the places you are going and hype it up.
Plan ahead and find the best places for a pit stop. There are probably many playgrounds not far out of the way. I always pack lunches and we eat while driving. That way when you are out of the car, the kids can run around and stretch their legs. What could be more annoying to a child than their mom telling them to sit down and eat when they finally can stand up.
Keep in mind, my daughter is maximum energy, and getting her to sit down and eat is a struggle. My son likes to sit and eat so maybe your kids enjoy sitting down and eating. Wouldn't be the craziest thing.
At this point, you may be wondering if I am living in 2021 seeing as I didn't mention anything about electronics. Trust me, we do tablets. Road trips are the best time to embrace technology. However, you miss out on a lot of opportunities if you pull them out right away. How does a trip journal sound next to a tablet? Not so great, am I right?
What we do is declare after dinner the time for tablets. That way we don't have to deal with taking them away until it's time for bed (or they fall asleep while we're driving). You get a lot of family road trip time in before they zone out with screens. You'll probably do a good amount of driving after dinner until it's time for bed so that is your peaceful adult time.
Also, tablets aren't so magical with very young children. They get bored. This is another reason why you should just hold off on tablets for as long as you can. Pipe cleaners and little toys are much more fun when the tablet is not an option.
The surprises for the baby will look a little different than the surprises for the kids. Empty water bottle anyone? The baby will also do more sleeping than the kids so that is a blessing. A long road trip with baby will require a lot more flexibility. If the baby is asleep and you are approaching your predetermined playground stop, nobody will blame you if you keep right on driving. Except for the older kids in the car…  
Road trips with babies are tough. However, even the littlest ones seem to get used to family road trip culture by the second day. So hang in there! If you take the time to prepare you are setting yourself up for success, but don't get discouraged when things don't go as planned. Just remember your mood sets the vibes for the trip.
Getting out and going places with your family is what summer is all about. Embrace the family adventure!