Herbal Tea Guide for Boosting Immunity in Fall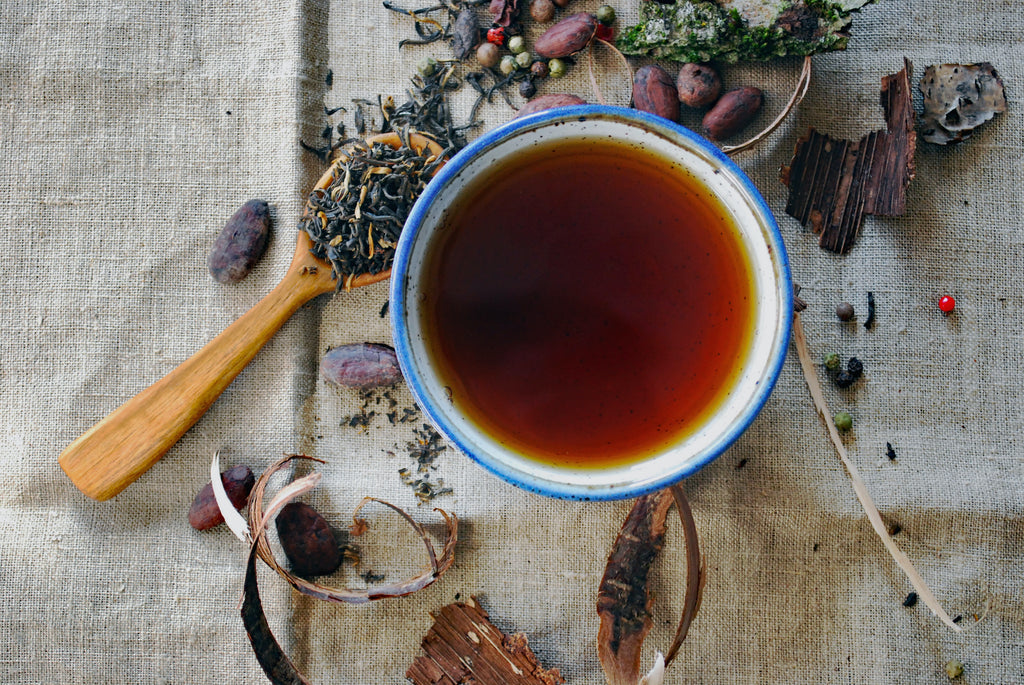 A DIY Guide to Making Herbal Tea & 3 Immune Boosting Tea Recipes
With August now in the past, we are heading right towards the first day of fall in 2020. And as lovely as fall may be, with the brilliant color changes that encapsulate the meaning of beauty, the temperatures etching away at the summer heat; there is one truth that follows with this change of the season.
And the truth is that with the colder temperatures and gathering indoors to avoid the crispy air, our immune systems become more compromised to simple colds, flus, allergies and many other infections. Just as well, during the times of our COVID-19 pandemic, it is more important than ever to ensure your immune system is working at its absolute highest and most efficient extent. 
In an effort to combat these minor illnesses, and as well to enhance the immune system in general for an overall healthier life, one of the best ways to do so is to access the healing benefits of herbs through an herbal tea blend.
Crafting and
creating your own blends of herbal teas is a very fun and invigorating experience, as all of your senses will ignite during the process, and it is a grounding ritual that embodies the meaning of using the natural healing properties derived directly from Earth herself. It is a simple process, and when it becomes a ritualistic part of your day, you will learn to love and adore both the act of creating herbal tea itself, and also the benefits your body will tangibly feel internally and externally from consumption. 
In this article, we will go over the simple steps required to make your own herbal teas, and also discuss a few easy blends & recipes that you can implement in an effort to boost your immunity during this fall and winter. 
 

A Do it Yourself Herbal Tea Guide
How to make herbal tea with dry herbs & fresh herbs, and how to make herbal iced tea. 
Herbal teas are called a 'tea', but in all technicality they do not use an actual tea leaf. Instead, herbal teas are an infusion with dried or fresh herbs, roots, barks, and flowers that soak the healing benefits out from the botanicals and into the water. We then consume the healing properties through a pleasant and very enjoyable drinking experience. 
It is important to note that herbal teas are not created with taste as purpose, and are instead a type of holistic medicine. Although some herbal tea blends do in fact taste wonderful, others will not be as 'easy' to drink, and will often be very earthy and flowery in flavor. 
Herbal teas are created specifically to enhance your health, so acknowledging that the depths of these flavors and the fact that they are designed to heal is essential before consuming, and with time your tastebuds will adjust. 
Infusions vs. Decoction 
The two main types of herbal tea blends are known as infusions and decoctions, and the differences between the two arise from the ways in which they are crafted.
 

An "infusion":
Is crafted using a 'steeping' method, where the botanicals are soaked in boiling water for a set time frame 

Is the better method when using the more 'fragile' parts of plants, such as the flowers and the leaves
 

A "decoction":
Is crafted by slowly soaking the botanics in simmering, very lightly boiling water 

Is the best method when using the 'harder', more fibrous parts of the botanicals, such as roots and barks, as the extended slow simmer better extracts the medicinal properties from these tougher materials versus infusing. 
How to make an Herbal Infusion 
First begin by choosing the different herbs of which you want to access the healing properties. We will go over some excellent immune boosting herbs and combinations below, but you can use and combine nearly any herb together to create your own blend. 

A good ratio to remember is for every cup of tea you wish to create, use 1-2 tablespoons of dried herb or 2-3 tbsp of fresh herb. For our sake, creating a large batch is often the best method for herbal tea making, as it is very easy to place in the fridge for iced herbal tea or to re-heat the next day. Herbal tea will remain good for three to four days in the fridge once brewed. For large batch purposes, we will be using 1 quart of water to create four servings.  Choose up to 7 tablespoons of dried herb or 9 tablespoons of fresh herbs for your concoction. The more herbs you use, the more powerful the medicine will be, but also the more intense the flavor. Start with less and adjust according to your taste and health needs. 

Fill a saucepan, a mason jar, or my favorite; a french press, with the herbs. French presses are wonderful as they are the easiest way to strain the herbs out of the liquid. If you choose a mason jar or saucepan, just make sure you have a strainer nearby to avoid drinking any loose pieces of herb. 

Boil 1 quart of water (4 cups), and as soon as the water begins to boil, remove from heat and slowly pour over your blend. Once filled, gently stir the herbs around to lightly mix the combination. 

Let the herbs sit and steep for up to 45 minutes. The longer they steep, the more powerful the medicine and the more intense the flavor. If you are finding the taste is too strong, instead try steeping for a lesser time such as 30 minutes. 

Stain the herbs out of the water (the used herbs are excellent for compost), and enjoy!
How to Make an Herbal Decoction 
Choose the herbs that you wish to access the healing properties, of which for a decoction will most likely include roots, barks, seeds or twigs. 

Using the same ratio of herbs (1-2 tbsp per 1 cup water for dry herbs, 2-3 per 1 cup water for fresh herbs) and for our quart sized, large batch purposes up to 7 tbsp dried herbs and and up to 9 tbsp for fresh herbs for every 1 quart of water.

Place the herbs in a saucepan (you cannot use a french press or mason jar for decoctions, as the herbs must remain in the pot while it simmers), and pour 1 quart of cold water over the herbs. Gently stir them around. 

Slowly bring the water to a light simmer with the heat on medium low, and as soon as the water begins to simmer, cover and turn the temperature to low. 

Allow the mixture to simmer while covered for 20-45 minutes. Again, the longer the simmer time, the stronger the taste and the more powerful the medicine. 

Strain out the herbs and botanicals and enjoy! 
Both herbal infusions and herbal concoctions can sit in a mason jar with the herbs overnight or throughout the day to create a solar and lunar infusion, a beautiful way to craft very powerful medicinal teas.  
3 Herbal Tea Recipes to Boost Immunity in Fall
Now that you know HOW to
make an herbal tea, lets go over some excellent herbal combinations that you can use to easily and affordably boost your immune system. Low immune systems can be targeted with herbs by utilizing their different strengths. 
Some herbs directly enhance the immune system, while others will target things such as sleep or stress that have a direct influence on the immune system. So, for example, if you find that you are not sleeping well at night, even though you may not realize it, this is in turn lowering your immune system. 
We are going to go over three different herbal tea blends. The first blend will directly enhance low immune systems, the second blend will help to lower stress and anxiety as a form of boosting immunity, and the third is a sleepytime tea to help you sleep well at night as the method for strengthening your immune system. 
 Remember, some of these may not taste amazing, and you are drinking instead to heal, but to enhance the taste try adding some honey or a small pinch of stevia to sweeten the blend. 
Immunity Boosting Tea Recipe 
In this herbal tea blend, we are going to utilize herbs that directly influence the immune system by increasing the body's natural resistance to infections and illness.  Each of these herbs contains healing properties that act as immune boosters, and together will create a herbal tea blend that is a powerhouse for fighting colds, flus, and other fall and winter ailments. 
This tea is best crafted using the "Decoction" method, as it contains dried berries and roots, and the amount of herbs used is best for a quart of tea. 
Ingredients:
2 tbsp of dried elderberries 

2 tbsp echinacea root 

1 tbsp ashwagandha root 

1 tbsp lemongrass 
Mix the herbs together and craft by decoction. Add 1 tbsp of honey for flavor and enjoy while warm. Re-heat the mixture for 4 cups of immune boosting tea power!
 

Herbal Tea for Stress and immunity 

The immune system and stress go hand in hand. When you are stressed out, the immune system is directly affected as your body does not know how to respond as well to viruses and infections. Stress hormones take over and suppress the immune system, and in an effort to boost immunity, craft this tea as a method for lowering your stress levels.

Craft this tea using the "infusion" method. Ingredients make 1 quart of stress lowering tea. 

 Ingredients :
1 tbsp holy basil leaf 

2 tbsp lemon balm 

2 tbsp St. John's wort 

2 tbsp peppermint 
The peppermint and lemon balm within this tea give it an excellent flavor, and it is really quite drinkable. Add 1 tbsp of honey to further enhance taste and immune boosting effect. Drink hot, but this tea is also excellent when served iced. 
 

Sleepytime Herbal Tea Recipe 

Not getting enough sleep is never beneficial for the immune system. Resting your body through sleep also restores your immune system so that it can fight off antigens and pathogens to its highest extent. If you are having a tough time sleeping, then hand in hand you are lowering your immune system. 

Do not let yourself fall to the ill effects of not getting enough sleep, and utilize this sleepytime herbal tea blend to enhance your sleep and boost the immune system by doing so.

Craft this tea using the 'infusion' method, and drink 30min-1 hour before going to bed.

 Ingredients:
2 tbsp dried chamomile 

2 tbsp dried lavender 

2 tbsp dried catnip 

1 tbsp dried valerian 
 Add 1 tbsp of honey and drink the mixture while warm before bed. 
This article has been brought to you by your friends at Farm Brand