How to Get Started Meal Prepping
Too often our health goals fall short when we are stressed and short on time. It's not because we didn't try or want to succeed, we just need a better plan. And the fact is: we are used to food that is fast and easy.
And one of the greatest keys to healthy living is nutrition.
You can work out all day long, but if you are not fueling your body with the nutrient-dense food it needs, you still are unhealthy. Whether your goal is weight loss, improved energy or mood, or decreasing symptoms of chronic illness, food is fuel and you deserve premium grade.
While we wait for McDonald's to start serving up the good-for-you stuff at the same economical price of a Big Mac and large Coke, we are going to have to put in the work. It takes just a little extra elbow grease to make sure that healthy food choices are quicker, easier than a drive-thru.  
Manage portions

Avoid overeating

Lower stress

Learn new cooking skills

Curb cravings

Save money and time

Decrease processed food consumption

Maintain a healthy lifestyle

Maximize training results

Learn more about nutrition

Make grocery shopping easier
How to Start Meal Prepping
If you're wildly inspired by a countertop full of meals, don't worry you'll get there. For long-lasting success, it's best to start small. Choose which meal of the day you need the most help with: are you skipping breakfast? Too much fast food at lunch? Are dinners full-blown chaos? While you may feel like all of the above apply, choose just one.  
Even how you stock your food and pantry can affect how you react when that "hangry" feeling starts setting in. Consider how you unload your groceries as part of the process. Unpack large boxes of healthy snacks and put them in easy-to-grab baskets in your pantry or cupboard.
As you clear your refrigerator for fresh food, group your healthy snacks together, front-and-center where they are easy to see. By packaging things like pre-cut fruits and veggies into small containers at the beginning of the week, you'll be far more likely to snatch one up for a snack on the go.  
---
Supplies Needed For Meal Prep
One of the most oddly satisfying things about meal prep is eyeing your stack of pre-cooked, planned meals in the fridge. It's a thrilling sense of accomplishment every time you open the fridge. Here are the supplies needed to get started meal prepping:
Food containers: A great start is the standard single compartment food prep container/lid. You can opt for plastic, glass, or stainless steel. Plain, old mason jars make great containers for salads, yogurt parfaits, and overnight oats. As you go you'll discover that you may need or prefer options that have dividers, salad dressing containers, or reusable zip-top bags.

A kitchen: Odds are you can check this off your list, but there a few kitchen tools like a crockpot and/or pressure cooker that can help you cook large batches of food simultaneously.

A goal: Consult with a doctor about what your nutrition goals should be. Every person is different, so portion sizes, meal frequency, and ingredients should be tailored to your lifestyle.

Extra credit: A food scale can help you determine portion sizing if you are counting calories or tracking macros.
A meal prepping session can take anywhere from 1 to 3 hours, depending on the level and quantities of meals being cooked. Sundays are a great day to invest some time into cooking your meals for the week, keeping in mind the shelf life of your food.
Don't forget the power of leftovers! Instead of leaving whole dishes of last night's meal in the fridge, pre-assemble yourself individual meals that are ready, and easier, to grab. It may sound simple, but re-inventing how you stock your fridge can help you save time and make smarter food choices.
If eating salad makes you gag, it's time to try a different salad (or maybe skip it altogether!). Eating healthy shouldn't be an act of coercion. Find food and flavors that you love and enjoy eating. Consider this whole process as a science project; you are on the hunt for foods that both taste good and make you feel good.
Keeping in mind any dietary restrictions or doctor's orders, a balanced meal should consist of a variety of proteins, fats, and carbs. Protein will help you build muscle and feel full. Fats ensure your body absorbs essential vitamins like A, D, and E. While carbohydrates are key for producing energy and aiding digestion. A good rule of thumb when starting out is to make meals that consist of each of these three categories.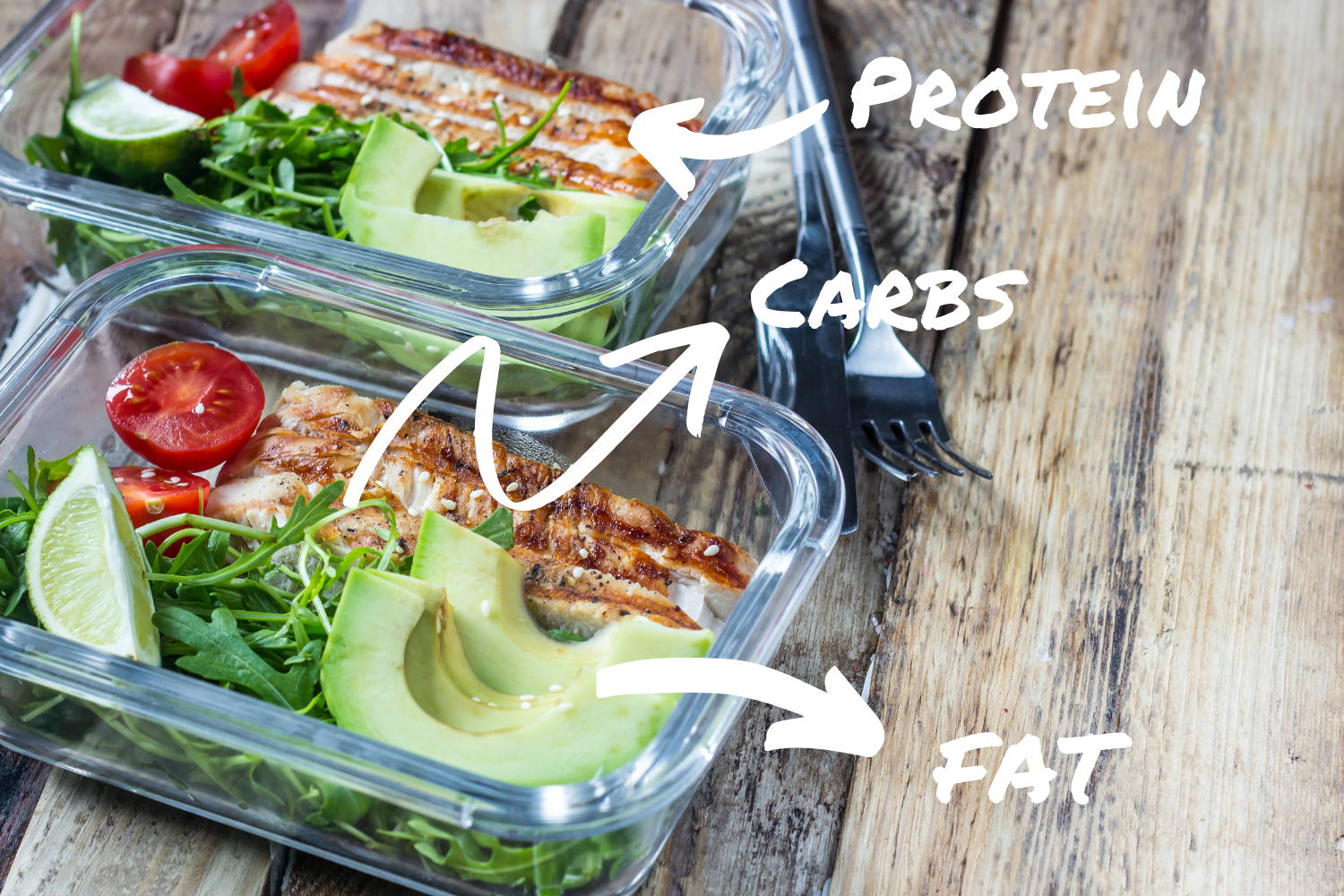 ---
Meal prepping is a great way to inspire innovation in the kitchen and get you on track for your wellness goals. The idea is to start to change how you treat food. Instead of eating when you are bored or feeling driven by emotion, you can balance your relationship with food while making healthier choices and still enjoying your favorite snacks and treats in moderation.  
Stay tuned for the upcoming collection of our favorite must-try meal prep recipes to get you excited about eating healthy!