How to Give Back to Your Community Through Your Business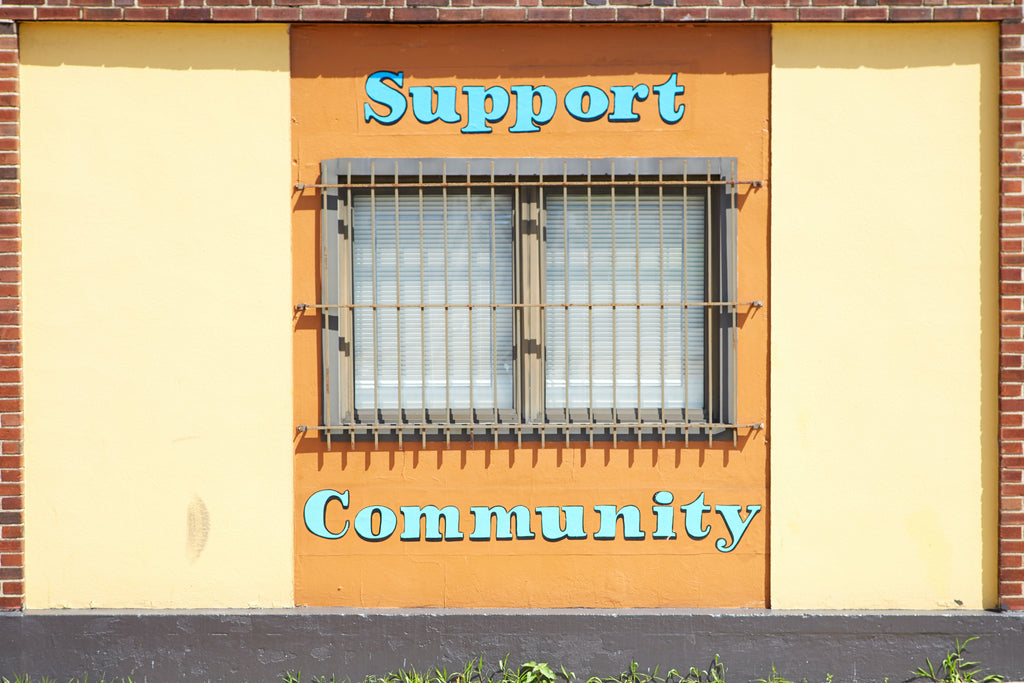 A small business 'how-to' marketing strategy with creative ways to give back to your community
One of the keystone building blocks to small business success is the utilization of your community to help propel your product, service, or whatever else it may be that your business is built on through the love and support derived from those closest to you. Most all businesses start as a small scale operation in a local town, and you will learn that people generally want to help advocate your idea and hard work, resulting in endless resources of which the community around you can provide when sought out correctly.
Oftentimes the most powerful tool at your disposal is when your business is shared between a group of close friends, boiling down to one of the most implemented and time tested strategies that is ''word of mouth marketing', for nothing is more powerful than the voice of others who believe in us and support what we do. 
So then, on the other side of the spectrum, it becomes our responsibility as business owners to promote the same degrees of positivity by in turn giving back to our community when we are finally capable of doing so.
And this doesn't take a massive budget or a time ridden project in order to do so.
Instead, there is quite a collection of amazing strategies of which your small business can implement that will all result in promoting 'good' through your success and potentially give back to those exact people who supported you along the way. 
There is such a thing as corporate social responsibility, but there is also a need for small business social responsibility, and not only will giving back to your community act as a way to thank those around you who have helped you find success within your entrepreneurial endeavors; it will also help you to achieve new milestones in growth. 
If you are looking for an easy, affordable, and successful means of marketing, then we are going to go over a few methods of which your small business can use to give back to your community that simultaneously build a positive reputation around your brand. 
#1. Create a 'Give Back' Incentive 
In business, we have two choices:
Sell a product or service and keep the net profits for ourselves.
Or sell a product or service and take a portion of that profit and put it directly back into the community. 
The concept of a donation, whether it be a portion of sales given to set charities, or an incentive such as "For each T-shirt sold, we plant a tree!", is one of the best marketing methods available. This strategy requires absolutely no upfront cost, as you are using a small portion of your profit AFTER the item is sold, and it creates a feel good incentive for your future customers that entices them to purchase your goods over the competitors. 
When creating a donation based marketing strategy, try and pinpoint charities or actions relevant to your niche. For example, if you run a fishing charter or an ocean apparel website, it makes sense to donate a percentage of proceeds to ocean clean ups, right?
In the long run, it is endlessly beneficial to the longevity of your business because you are helping to sustain the one things that your entire livelihood is built around (AKA the ocean), and just as well there is a very high chance that your audience is comprised of other ocean lovers who want to do nothing but the same. 
By giving them this option, your customers will know that they are supporting both the environment itself, and also a company that is built on ethical standards and a desire to promote the idea of giving back to this world through business. And this holds true for any business niche.
Farm Brand, an activewear brand with some of the most genuinely comfortable clothing (Especially our joggers!), set a perfect example by giving our customers the option to choose between a wide variety of non profit organizations and charities that mean the most to us, donating a massive 5% of all sales to said charity right out of our own margins. 
Just think, if a small company did $100,000 in sales, that is $5,000 given back to our communities; and $5,000 can go a really long way for any non-profit in supporting their ongoing fight for worthwhile causes. 
If you are currently running a business with an e-commerce or online sale platform, then take a look at
https://shoppinggives.com
They are an industry-leading charitable giving technology platform whom Farm Brand has chosen to partner with. Shopping Gives provides you with one of the easiest to navigate set ups in allowing your business to showcase and offer unique charity donations of which your customer can choose between at checkout. 
Worried that you will lose out on too much profit for your margins?
Well there is a pretty good chance that by doing so your business will in turn create a customer base far larger versus not creating a donation based incentive, and you will profit MORE as a result of the increased usership or business volume, all while giving back to your community. That, and writing off donations will help you out greatly at tax time.
Aside from the obvious business benefit, it truly is a win-win for everyone, as long as the business commits itself in making a real difference in its efforts to give back to the community.
If you are really feeling generous with your business, and are in the position to do so, think to also offer a 'donation match' that provides customers with the option to donate any amount they feel comfortable to a chosen charity with the promise that your company will match the donation. By creating an incentive, you will gain respect, admiration, and a following for any potential or current customer that they will feel proud to be a part of. 
#2. Offer Free Goods or Services to Those in Need
If you own a small business, then you are providing something that people in this world either need or want and you your success is derived from demand. 
But unfortunately, there are always people who are struggling and not fortunate enough to maintain the means necessary to afford not only goods of which they desire intrinsically, but also good and services of which promote an overall healthy quality of life. 
And that is where you come in!
As a means of giving back to your community through business, offer your products or services for free or at an impactful discount to those who need them most. Not only will you really change someone's day, year, or life; but you will also reap the rewards of having others appreciate and support the positivity of which you are spreading.
Together, this creates a full circle of enhancing your success while also enhancing the lives of others.
Own a clothing brand? Provide a shelter with T-shirts that they can give to the local homeless population. 
Own a service business such as lawn care or pool cleaning? Make it known that you will provide a one year free or discounted service to a lucky individual who needs it the most. Post on community facebook pages and tell all of your current customers of what you are looking to do, as chances are they will know someone in a position who could really use your help. 
Farm Brand provides all first time shoppers 30% off their first order with coupon code FARM1110. We also provide family members of our customers, as well as frontline heroes and essential workers who work long and hard hours to keep all of us safe, with 40% off coupon codes FARM4FAM and FARM4HERO, respectively. 
Not only will this spread the word of your business, what you do, and the services you provide. It will also showcase that you have a desire to do something good through the success that your community has granted you, and by giving back you will build a structure of wholesomeness that will act as the entirety of the base that is your current and future reputation. 
#3. Offer Products and Discounts to Essential Service Workers
Everything about commerce and business boils down to the fact that it is only possible because of the people in our world who keep our country and communities safe, secure, educated, and healthy.
When people are putting their lives at risk just for our sustainability, it only makes sense to offer them reasonable discounts at checkout. They simply deserve it, and it is an excellent way to give back to portions of the community who really deserve admiration. 
Veterans and military members, the police force, firemen, nurses, teachers; and the list goes on. They have dedicated their breaths to ensuring that you can inhale your own freely, and that goes a long way. Thank them kindly by offering a discount to either your product or service.
As an example, In my past I ran a successful pool cleaning business in South Florida. My previous company would provide our services to all listed above categories at a 15% discounted rate as a means of showcasing our support and admiration to what they do.
Not only was this karmically the best option, but word spread of our genuine nature, and in the end the 15% loss was completely made up for by others choosing to enter a contract with my company based on the fact that they too wanted to support this cause built on sharing positivity.
#4. Give Employees a Chance to Donate Time to Community Services on your Clock
Hosting a volunteer day is an excellent way to directly give back to your community. Locate a non profit that needs helping hands, and offer your employees the chance to donate their time to said charity while they are still getting paid on your clock.
Not only will this directly give back to your community by helping other purveyors of good, but this will also remind your employees of the power each person has at promoting positive change. By paying them a day worth of work while they donate their time, you will showcase the depth of effect contained within the simplicity of giving one day of your time away, and there's a good change they will take this thought process off of the clock as well.
If you choose to host an entire volunteer day, then there may be room for partnerships and exposures that will enhance the image of your business while showcasing such to new eyes; potential customers who want to support your community by supporting you.
Just as well, people love the feeling of doing good. Your employees will probably appreciate the change of scene, and getting paid to actively participate in this will result in a higher productivity back at work.
Don't forget, with upcoming general election happening between now to November 3rd, depending on where you reside, why not give your employees their choice of day off in order to go out and make their voices heard at the ballot box? It's all part of doing the little things that can make a positive and lasting impact for all of us.
Marketing, employee relations and production, and giving back to your community all in one single concept. 
#5. Use your Business to Support other small Business
Chain reactions, the domino effect, the spillover…Whatever it is you want to call it.
When your business is finding success, then you can implement an effective strategy of giving back to your community by supporting other local small businesses through your own endeavors to further the success of others. 
Try and pinpoint some of the necessary products, equipment, supplies, or outside services that are required to run your own business. Ask yourself:
"Can I purchase any of these items or services locally?"
Chances are, the answer is yes! 
Why not use a marketing team that is based out of your own local community instead of a nationally based one?
Why not print your designs on products from a local print shop instead of an out of country counterpart?
Why not source supplies from a local shop versus a global one of which there has been no face to face interaction with those you are working with?
There really are no good answers to any of these questions, because in the end you always should!!
In a time of massive corporations taking over entire marketplaces, the support of one small business to another is required now more than ever, and it should be a large part of the basis of social responsibility in business. 
Not only does it give BACK to your community, it also helps to BUILD a community.
This will create an audience and customer base that is proud to be a part of whatever it is your business does, because we all like to take part in something greater than ourselves, and supporting other small businesses is an excellent first step at doing so. 
This article has been brought to you by your friends at Farm Brand.